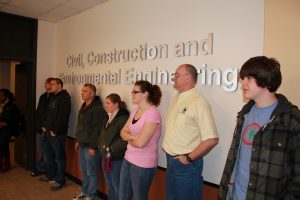 Iowa State's student chapter of Associated General Contractors of America (AGC) hosted an ACE Mentor Student Visit on March 3, 2012. The ACE Mentor Program is a nationwide program designed to introduce high school students to careers in architecture, construction, and engineering. The Iowa State event brought approximately 60 students and parents to campus to better inform them of the opportunities the university has to offer in these industries.
"The goal of the event, from the College of Engineering's perspective, was to show high school students the career opportunities in construction engineering and how our program is a great choice for college," explained Larry Cormicle, CCEE senior lecturer and host and presenter for the construction engineering program.
James Britt, chairman of the ACE Mentor Board, said the event was also formulated in an attempt to reach out to minorities or students who come from low-income families in which college may not be an option without such outreach programs.
The March 3 student visit kicked off with a welcome from the CCEE department, presented by Cormicle and several construction engineering (ConE) undergraduate student volunteers. Following the presentation, attendees were given a tour of the Town Engineering Building and were encouraged to ask questions regarding the program and socialize with the mentors.
"We used seven undergrad ConE students as tour guides," said Cormicle. "They ended up answering more questions about the program than I did, which was a great interaction experience for both the students and the volunteers."
Tom Gorman, ConE senior and AGC cabinet member, was the lead organizer of the volunteers. He recruited the following ConE students to volunteer as tour guides:
Nicholas Woodard
Benjamin Swenson
Josh Singsank
Nicholas Zahner
Alexander Buscher
Jace Christensen
Ethan Schroeder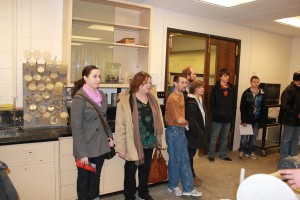 The ACE Mentor Student Visit also included presentations of the College of Design's (COD) landscape architecture and architecture programs by Mindy Cooper, a COD academic advisor.
Combining the two college's programs for the event was a unique and beneficial experience for students, offering them insight to several different disciplines in just one visit.
At the end of the day, students had a clear perspective of each of the disciplines and left campus with a better understanding of what each professional career would entail. Organizers of the ACE Mentor Student Visit were pleased by the successful turnout and hope to turn this into an annual event at Iowa State.