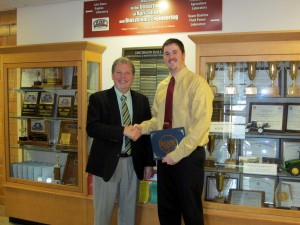 Each year the National Engineers Week Foundation presents its New Faces of Engineering award to a handful of young engineering professionals. In December 2011, the organization recognized a group of talented engineering students with a new annual award: the New Faces of Engineering College Edition. Among the 15 students honored was Aaron Nissen, senior in agricultural engineering at Iowa State.
The students were recognized for their "academic excellence, leadership within student organizations, outstanding communication skills, non-engineering related community service, and involvement in the engineering industry."
Nissen's contributions to Vermeer Manufacturing during a summer 2011 internship and his involvement in the American Society of Agricultural and Biological Engineers (ASABE), along with his passion for the field, played an important role in his selection for the award.
His interest in agricultural engineering began during his childhood on a farm in Audubon, Iowa. "Simply put, I've always been a gear head. I love everything mechanical but especially compression-ignition engines," he said.
Over the years, operating and repairing farm machinery on his family farm has allowed Nissen to experience first-hand both the successes and failures of machinery design schemes, ultimately fueling his passion to help improve the future of agricultural machinery.
Adding to this practical experience, Nissen says his lessons from Iowa State made a difference at Vermeer, where he worked as a Design Engineering Intern in the Track Products Division. Classes dealing with material properties such as tensile strength, shear strength, and pressure rating helped him select correct materials in design processes, and studies in CAD programs like SolidWorks improved his 3-D modeling skills .
"Also, studying machining processes through my involvement with the Cyclone Power Pullers prepared me to work in an environment where every solid metal part was fabricated in-house," said Nissen.
This summer, he will return to Vermeer as a test-engineering intern to gain further insight into the engineering industry.
Nissen also plans on increasing his contribution to ASABE by running for a leadership position in the coming school year.
"It is my personal goal to be somebody who underclassmen can look up to for guidance and come to for advice," he said. "Our ASABE chapter strives for excellence in every activity we participate in, and I want to uphold that reputation."
As a winner in the New Faces of Engineering College Edition, Nissen will receive a $1,000 scholarship to put towards educational expenses. He expressed gratitude towards peers and teachers who have helped him succeed in his field, and is honored to be recognized at this level.