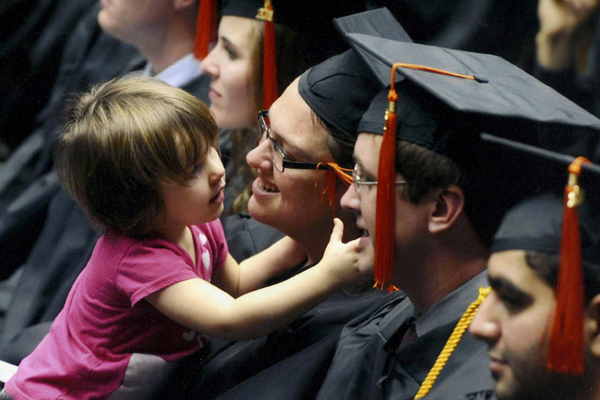 Photo courtesy of The Ames Tribune (Nirmal Majumdar)
A typical day for Alexandra Bruns begins at 5:30 a.m. and ends at 2 a.m. the next day. Each day she completes a 20.5-hour cycle in the life of a stellar graduate student, mother, and wife.
Bruns is 32 and recently completed the undergraduate portion of her concurrent bachelor's/master's civil engineering degrees at Iowa State.
On a usual weekday, Bruns wakes up well before the sun does, even during warmer months. She soon awakens her three-and-a-half-year-old daughter, Aunika, feeds her breakfast, and drops her off at ChildServe childcare in Ames by 7:30 a.m. Bruns' typical 16-credit workload then takes her to the Iowa State campus from 8 a.m. to 3 p.m.
Her fun time with Aunika is 3 to 5 p.m. They often go to the park, visit the library, or see the sheep by Aunika's childcare facility. "I make sure she has a voice," Bruns says, explaining that Aunika should express herself and be adventurous as she grows and explores.
She then comes home for dinner and hangs out with her husband, Raymond, who she met 12 years ago while riding a Greyhound bus from Minneapolis to her hometown of Duluth, Minn.
After tidying the house a bit, Bruns reads Aunika a bedtime story at about 7:30 p.m. After the story, they talk about each other's days and play patty-cake. By 8:30 it's Aunika's bedtime, and Bruns prepares to meet fellow students on a group project. When she leaves, Bruns often tells Aunika: "Mommy is going to learn more!"
Returning to campus to work on homework and group projects can keep Bruns busy until midnight, if not later. "In the civil engineering program, group work is emphasized – I love that," Bruns says. "I'm glad other students are willing to meet at that time."
What attracts her to school is her passion for the environment. Bruns grew up with an environmentally conscious household, especially her mother.
"My mom inspired us when driving past wind turbines throughout Iowa and Minnesota," Bruns says. They admired the structure's splendor and the good it was doing for the environment, she says.
Bruns' best day as an Iowa State student was July 27, 2010, her 31st birthday. In CE 326, a principles of environmental engineering lab course, Bruns measured dissolved oxygen in water samples from a local wastewater treatment plant. It allowed her to understand biological oxygen demand in water. "I was perfectly content," Bruns says. "I always learn better with lab experiments."
She enjoys learning about geographic information systems (GIS) surveying and forming casts for concrete in the Spangler Geotechnical Laboratory's mixers. Her hands-on learning style fits well with her attention deficit disorder. She said that time management is key when juggling responsibilities. She calls herself a "listmaker."
However, she wasn't always on the engineer track. At age 16, Bruns met the daily needs of her grandmother who was sick with cancer. Bruns then started working full-time at an elderly assistance in-home care facility while finishing high school. In 2000, she began working in-home care with mentally disabled patients.
From 2004 to 2007, Bruns lived in a 12-foot-by-12-foot "hunting shack," she calls it, on her father's 40-acre property in rural Proctor, Minn. She had no running water and used a wood stove for heat. Daily activities included carting firewood on a wagon and hauling water from outside sources. Occasionally, she unreeled a hose down the hill to a pond, where she pumped water for the garden and hand washing. At night, she appreciated the monthly full moon, hands full, walking her quarter-mile driveway carrying or pulling in supplies. "I knew every single rock and ditch that was near my door," Bruns says.
From 2003 to 2006 she worked as a house manager for assisting mentally disabled patients. To broaden her career possibilities, she took a career interest test in 2006 – it favored engineering. On a hunch she refocused to a college career at nearby University of Wisconsin-Superior, where she began taking pre-engineering courses while doing in-home care for traumatic brain injury patients. Regardless of her nursing-like experience, she wanted to pursue a bachelor's degree in engineering.
In December 2008, after Aunika was born, she transferred her credits from University of Wisconsin-Superior to the civil engineering program at Iowa State University.
"Because my grandparents went to Iowa State, I love the environment, and Ames is a great place to have a family, I packed up a U-Haul and went," she says.
Since then, Bruns has balanced many long days and nights with school and family.
Last spring, she realized that credits earned from attending every fall, spring, and summer session got her close to earning both a bachelor's and master's degree. Without missing a beat, she got on track for Iowa State's concurrent bachelor of science/master of science degrees in civil engineering. After earning her bachelor's degree December 17, 2011, she will likely earn her master's degree this August.
"I just love learning," Bruns says. "I value the increased career opportunities I would get with a master's degree. After all, three lives are directly affected by my decisions."
For information on the concurrent bachelor/master degree civil engineering program at Iowa State, go to www.ccee.iastate.edu/academics/graduate/concurrent-msbs-program.