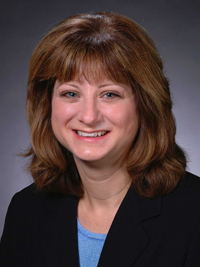 Manley R. Hoppe Professor Dr. Jacqueline Shanks has recently been appointed to the U.S. Department of Energy's (DOE) Biological and Environmental Research Advisory Committee (BERAC).
As one of four engineers on this 25-member national committee, Shanks lends her expertise in biorenewable and environmental engineering research to recommend solutions to national biological and environmental issues.
"I view this as a service to the U.S. government and my country," Shanks said. "I am honored to be chosen for a committee that has substantial influence on DOE's biological and environmental research policies."
The current issue she and the committee are addressing concerns policy reform in future energy needs, climate change, water availability and land use. One provision of this issue is to "expand on the concepts of virtual laboratories and collaborative tools," according to William Brinkman, director of DOE's Office of Science.
Shanks said that practices at National Science Foundation's Research Center for Biorenewable Chemicals (CBiRC), housed on the Iowa State campus where she is the metabolic engineering leader, is "facilitating said concepts and interactions."
Her three-year appointment ends December 16, 2014.
Shanks has been a professor in Iowa State's chemical and biological engineering program since 1999. She also is a Fellow of the American Institute of Medical and Biological Engineering and is a member of the American Chemical Society, American Institute of Chemical Engineers, Omega Chi Epsilon, Sigma Xi, Society for In Vitro Biology, Society of Women Engineers and Tau Beta Pi. Shanks is a 1983 Iowa State chemical engineering alumna and earned her Ph.D. in chemical engineering at California Institute of Technology in 1989.