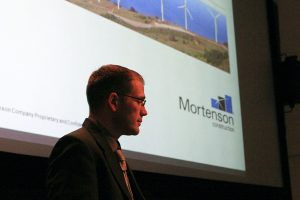 Iowa State engineering students got an inside look into the wind energy industry September 8 at a presentation by M.A. Mortenson Company, the country's leading builder of wind power.
Kevin Deters, general manager of renewable energy groups at M.A. Mortenson Company of Minneapolis, Minnesota, led a discussion in Howe Hall's Alliant Energy-Lee Liu Auditorium on how producing wind turbine farms incorporates several engineering disciplines and how these turbines affect communities. Dozens of students engaged in the 1.5-hour presentation.
"This generation is more in-tune with improving collective society," Deters said. "With this comes the sustainability component, and students are eager to learn how they can help."
Ben Miller, a senior construction engineering student, asked several questions during the 45-minute Q-and-A segment. One thing he was especially interested in was the wattage cost of wind farms, and how that data can be assessed across the typical 20-year lifespan of a wind turbine. The "innovation and constant changes" that occur when dealing with energy cost, Miller said, are why he is fascinated in the green energy engineering field.
Electrical engineering Assistant Professor Dionysios Aliprantis, who attended the event, was interested in better utilizing wind, an unpredictable energy source, to generate a fixed energy output. He says this would involve re-engineering electrical components, like the generator, control plant, or even the entire system grid that distributes power, and adds that this is an important step in making wind a primary energy resource.
M.A. Mortenson Company also presented September 7 in Carver Hall about the company's future in construction engineering. David Mortenson, the company's executive vice president, led that discussion.
Wind energy is one of three research initiatives identified by engineering Dean Jonathan Wickert. With research in wind energy, high throughput computational biology, and a carbon-negative economy, the goal of these initiatives is to spur economic development and drive technologies that benefit Iowa and the United States.