In early August, faculty and students from the College of Engineering's Agricultural and Biosystems Engineering (ABE) department traveled to Louisville, Kentucky, for the 2011 American Society of Agricultural and Biosystems Engineers (ASABE) Annual International Meeting (AIM). According to ASABE, AIM is held "to expand the awareness of current industry trends; promote and acknowledge innovations in design and technology; and provide opportunities for professional development." At this year's AIM, several attendees with Iowa State ties were honored with awards.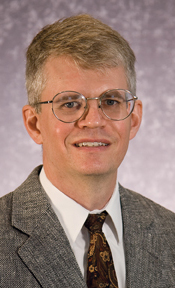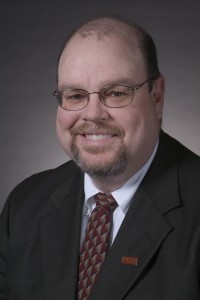 Two ABE faculty members were recognized for their contributions to the industry over the years. Brian Steward, associate professor of ABE, received an ASABE Honorable Mention Paper Award for an article published in Transactions of the ASABE. Steward co-authored the journal article "Using spatial uncertainty of prior measurements to design adaptive sampling of elevation data," with Samsuzana Abd Aziz and Manoj Karkee.
Jay Harmon, professor of ABE, received two awards. The first of these honors was the Henry Giese Structures and Environment Award. The award was established in 1988 to commemorate Giese's contribution in farm building design, research, and teaching. Harmon was also one of 12 members selected as a 2011 ASABE Fellow, the highest honor any ASABE member can achieve. (Read more about Harmon's ASABE honors.)
Several Iowa State organizations were also honored at AIM. The ASABE Student Chapter at Iowa State swept the competition for the Student Man Mile Award, which is determined by multiplying the distance traveled to AIM by the number of students in attendance. With 17 students traveling to the event, Iowa State's number totaled 10,353 miles, while the runner-up's total was 444 miles. The organization also received second place in the Association of Equipment Manufacturers (AEM) report competition. Also receiving second place in their division's AEM report competition was Iowa State's Agricultural Systems Technology (AST) club.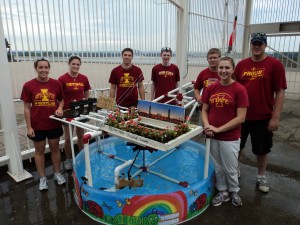 Additionally, a group of Iowa State students were deemed successful for their participation in Fountain Wars, a competition in which students bring a preconceived design and build a fountain on-site within a two-hour time limit. The group, which included Andy Smith, Allen Vanderwiel, Kristine Gleason, Kristine Kohlhaas, Andrew Verhasselt, Adam Halbur, Levi McClimon, and Nicole Stoll, received second place for their fountain's design. They also received Most Innovative Design, Most Attractive Fountain, and Best Use of Biomaterial, which resulted in $150 in cash prizes.
Allen Vanderwiel and Kent Thoreson, both seniors in agricultural engineering, were individually recognized as well. Vanderwiel was awarded the ASABE Foundation Scholarship, while Thoreson was elected President of the International Preprofessional Community.

Along with the awards presented to students and faculty of Iowa State, Ron Leonard, 1956 alumnus of agricultural engineering, received the Cyrus Hall McCormick-Jerome Increase Case Gold Medal Award. This prestigious award is given out annually to one person who has shown exceptional achievements in agricultural engineering. Leonard was honored based on his contributions to agricultural development, which includes creating new concepts of products, processes, and methods that advance the industry. He is considered an exceptional engineer and manager in the agricultural machinery industry due to his many years of service as director of the John Deere Product Engineering Center in Waterloo, Iowa.