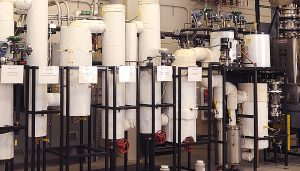 AMES, Iowa – The National Science Foundation has awarded a $20 million, five-year grant to build Iowa's research capacity in renewable energy and energy efficiency.
The Iowa Power Fund, a state program supporting energy innovation and independence, has also granted the project $2 million to pay for research equipment.
The core of the research project will be conducted at Iowa's three public universities – Iowa State University, the University of Iowa and the University of Northern Iowa. The program also includes partnerships with the state's community colleges, private colleges, school districts, government agencies and industries. Iowa State's Robert C. Brown – an Anson Marston Distinguished Professor in Engineering, the Gary and Donna Hoover Chair in Mechanical Engineering, and the Iowa Farm Bureau Director of Iowa State's Bioeconomy Institute – will lead the program. Co-leaders are P. Barry Butler, executive vice president and provost at the University of Iowa; Kevin Nordmeyer, the director of the Iowa Energy Center in Ames; and Chitra Rajan, associate vice president for research at Iowa State.
To read the full story, visit the News Service page.