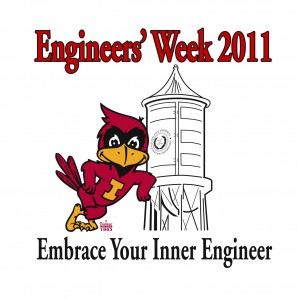 It's that time of year again, when months of hard work come together in a series of events no engineer on campus will want to miss. Engineers' Week (E-Week) 2011, which includes the nation's largest indoor career fair, has a plethora of activities planned to engage students not only in the College of Engineering, but across all departments at Iowa State.
"E-Week is very important because it is held early in the year to help get all of the incoming freshman excited about their majors and classes," said Erin Claeys, E-Week publicity co-chair and junior in chemical engineering. "At the same time, it also unites the college and helps us to realize the incredible things we can do as engineers."
Feeding off the importance of taking pride in being an engineering student, the theme of E-Week 2011 is "Embrace Your Inner Engineer." The idea behind the theme can also extend to people outside the college. "We chose this year's theme not only because we want E-Week to be a celebration of all things engineering, but to also catch the attention of students in other colleges and encourage them to think about ways they are engineers, too," Claeys explained.
E-Week 2011 has a lot to offer, including these featured events:
MythBusters' Grant Imahara: September 17 at Stephen's Auditorium, doors open at 6 p.m. and the event starts at 7p.m.
Kick-off Event: September 20 on the lawn east of Marston Hall, 5 to 7 p.m.
Intramurals (sand volleyball, ping pong, dodge ball, basketball, and broomball): sign-up online for dates and times
Charity Ball: September 24 at Howe Hall Atrium from 8 p.m. to midnight
Career Fair: September 27 at Hilton Coliseum and Scheman Building from noon to 6 p.m.
Of course, none of these activities would be possible without the hard work of all the E-Week 2011 committees. "All of the committees do so much preparation work for the one week of activities, including planning all the events, contacting all the companies involved, and taking care of all the details needed to make Engineers' Week an awesome representation of the College of Engineering," said Katelyn Dahlke, E-Week publicity co-chair and junior in chemical engineering.
With the enormity of the week's importance, help is always well received by the established committees. ChE junior and E-Week publicity co-chair Veronica Bryant said, "We'd love to have students volunteer through our Ambassador program, and they can find more information about it on our website or by e-mailing eweekresource@gmail.com."
Also available on the E-Week website is more information about the week's events and a list of generous sponsor's who have helped make E-Week 2011 possible. For further information, be sure to check out their new facebook page.