July 12th, 2011 by Kelsey Schirm
Wind energy in Iowa is an ever-growing industry that has escalated rapidly in the past decade. Working in a state that the American Wind Energy Association ranks as No. 2 in wind energy generation output, professors at Iowa State's College of Engineering feel a certain responsibility and absolute need to focus on wind energy education.
The college currently offers several wind energy courses, with a new course coming this fall. Going above and beyond classroom education, Iowa State also developed a summer program where undergraduates can gain additional experience with wind energy research.
Wind energy courses at Iowa State
The wind energy courses being taught and developed at Iowa State build on the class Aerospace Engineering 381—Introduction to Wind Energy, which was first offered in spring 2009. AerE Professor R. Ganesh Rajagopalan says the course quickly captured the interest of students, filling all 60 seats within 24 hours. With such high interest, the course was offered online as well as in the classroom the following spring semester.
Rajagopalan describes the introductory course as "technical but an overview." The class emphasizes the energy potential of turbines at any given location, touching on a majority of the concepts associated with wind energy.
Because of the amount and complexity of information associated with wind energy, Rajagopalan developed an advanced wind energy course. "The advanced class has more in-depth coverage, particularly of machine and design aspects of which there is no time to cover with the introductory class," Rajagopalan says. The newest course, Engineering 340—Introduction to Wind Energy: System Design and Delivery, adds more detail in the areas of materials, manufacturing, construction, electric transmission, transportation, and engineering economics.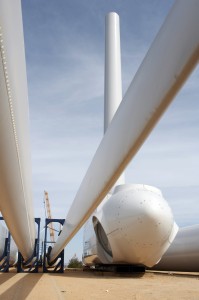 The faculty members involved in the course's development are taking a cooperative approach for instruction of Engineering 340. "I will be teaching part of it," explains James McCalley, professor of electrical and computer engineering. "In total, it will be taught by eight or nine different faculty the first time through." With plans to narrow down to one instructor, McCalley says the collaborative effort allows everyone to share expertise and learn new information related to wind energy and turbines.
McCalley is optimistic the newest course will go over well with students, much like the complementary courses. He emphasized that for the industry to grow, educational programs need high student involvement. "There is a lot of demand on campus and a lot of students are interested," says McCalley. "Students across the board will benefit from this class."
Frank Peters, associate professor of industrial and manufacturing systems engineering at Iowa State, says developing additional courses is needed. "Wind energy is much broader than can be contained in one course," he says. Peters adds that the relevance of the topic makes it interesting for students in disciplines outside of engineering, including atmospheric science and other liberal arts and science majors.
Peters started offering a graduate level course called Wind Energy Manufacturing in spring 2010, which covers some of the unique manufacturing challenges and opportunities in producing large wind energy turbine components.
Variety of student interest
Ben Sloan, a graduate student in mechanical engineering, has taken both of Rajagopalan's wind energy courses. He initially took the classes to broaden his knowledge on the entire energy generation spectrum. After taking the classes, he realized how important wind energy would be to the future as fossil fuels become scarcer. Sloan adds, "Iowa, North Dakota, and South Dakota have been called the Saudi Arabia of wind. Since I go to school in Iowa, I want to know how Iowa can become a leader in the field."
For Sloan, taking a class on "green energy production" gives him a feeling that he can help improve the world's energy problems with the knowledge he has acquired. "I've learned the limits of wind energy and why it alone cannot save the world," says Sloan. "It has to be part of a larger portfolio of renewable energy generation."
Fellow mechanical engineering graduate student Ahmed Hosny shares similar interests with Sloan. Eager to work on a wind energy project with his colleague Peter Maxisch, Hosny signed up for Rajagopalan's introductory class and later took his advanced class to learn more about the alternative energy source. "Both of these courses gave me the capability to do the analysis needed for the project," explains Hosny. "I took the courses to help me with the design aspects of the project, which ultimately led to more efficient work between the two of us."
Additional educational opportunities
To add to the educational aspects of wind energy on campus, McCalley says that a team has established a Research Experience for Undergraduates (REU) program called Wind Energy Science, Engineering, and Policy (WESEP). "The REU program will bring 10 undergraduate engineering students from around the country to Iowa State for a 10 week wind energy research opportunity, including a short course," explained McCalley. The program began at the end of May and will be funded by the National Science Foundation for three years.
The continued growth in educational opportunities in wind energy at Iowa State will benefit the future as students learn more about the industry. Current and future classes are being worked in to a proposed undergraduate minor program, which was initiated from a request by the Department of Energy to garner more focused educational programs in wind energy. The minor is just beginning to form, but McCalley hopes it will be official within the next couple of years. Through this program, the college hopes to graduate well-rounded students who can advance the wind energy industry, making this renewable energy source more abundant and sustaining.