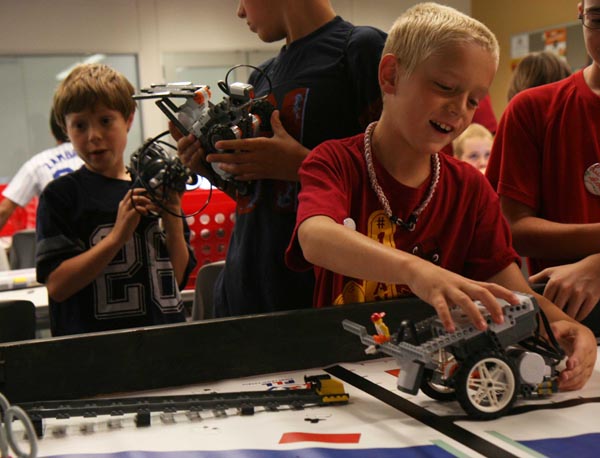 Learning to build and program an autonomous robot in one day may sound like a big challenge for 8-14 year olds, but the kids at Robotics Camp on June 16 didn't seem to have any troubles with it.
Heather Fremont, a senior in history, says the camp is "a day filled with hands-on activities that expose campers to robotics, the basics of programming, and what those things can be used for in the real world." To teach these important lessons, the camp's interactive activities have participants building and programming LEGO MINDSTORMS NXT robots.
The camp is one of the many ways Iowa State Engineering Kids (ISEK) helps K-12 students explore science, technology, engineering, and math (STEM). Organizers developed Robotics Camp after they received an overwhelmingly positive response to a robotic activity that was a smaller part of a different ISEK camp.
Beginning with the basics, campers first learned about how humans use robots, what they do, and how to program them. The 8-10 year olds listened to Iowa State's Lunar Robotics Club, while the 10-14 year olds met Assistant Professor of Electrical and Computer Engineering Alex Stoytchev and heard about his research creating robots that learn and think on their own.
After lunch, the groups made their way to classrooms in Coover Hall to build their own robots. Teams sat with boxes of LEGOs in front of them, eager to get to work. Volunteers, including Chris Stolte, a junior in software engineering and member of the Iowa State FIRST LEGO League planning team, explained the activity. The task for the afternoon was based off the FIRST LEGO League (FLL) competition, where students create an autonomous robot to complete timed tasks on a playing field, like moving LEGO cars or trees. Unlike FLL, the activity wasn't a race, but that didn't stop the students from quickly jumping in to the work.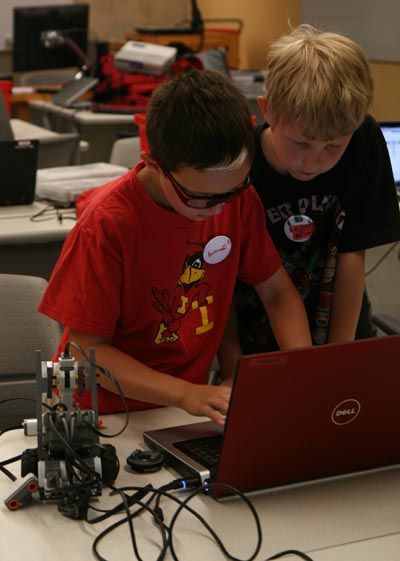 When the go-ahead was given, teams huddled over computers, heads together, thinking of how to complete the task at hand. As soon as they thought they had it, they made their way to the front of the classroom to see their work in action. In the beginning, only a few teams tested their robots and not every attempt worked. Disappointed faces looked up to the volunteers for some reassurance or words of wisdom.
As the afternoon wore on and more tests were conducted, confidence of the teams grew. The more they used the robots, the more excited they became as they got closer and closer to accomplishing their goal.
Eventually, teams had to form a line at the table, patiently waiting to place their robot in the starting square. When they finally reached the hot spot, they watched with wrinkled brows as their robots moved across the table, tracking with their eyes what went right and what went wrong.
Instead of asking others for advice, they started reasoning and looking inward to find the answer. Many bold statements declaring a solution were made while the campers marched back to their desks.
When one robot completed a task, there were smiles on all the faces surrounding the table and even a few rounds of applause. Once they tasted success, the students kept programming, trying to get their robot to do more and more. By the end of the day, each team had accomplished at least two tasks.
Although the goal of the camp is to show kids how interesting STEM fields can be, Stolte noticed that robotics wasn't the only thing being learned.
"The highlight for me was watching the kids interact with each other, and if some of them were struggling, watching others help. In the beginning, they each wanted to program or touch the robot, but in the end they learned to listen to each other, share, and work together," he said.
Fremont agreed, "Skills such as teamwork and communication are important and go a long way, especially in the engineering field. It takes all types of people and skills to be successful."
She noted how impressed she was when one group even came up with their own language during an exercise, showing how communicating with robots worked. She continued, "It really energizes you when so many ideas are flowing and learning is taking place. I saw how ideas can grow and develop and that the younger generation is full of new ideas about how to solve today's issues."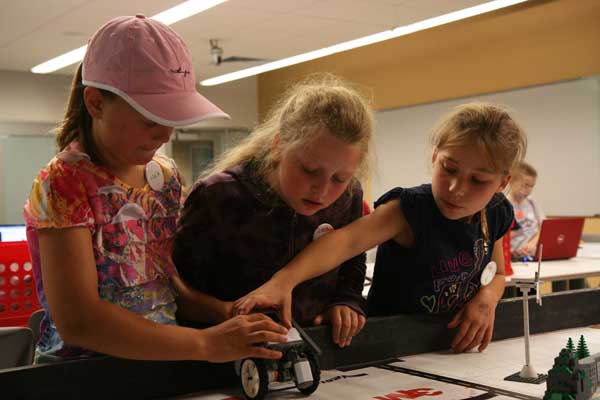 Although Stolte enjoyed offering advice and sharing his love of Iowa State and engineering, he appreciated the moments when he wasn't needed. "Watching them figure things out themselves and not necessarily needing our help to guide them was a high point," he said.