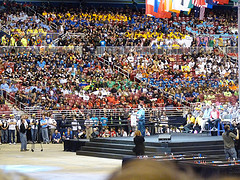 Four Iowa State College of engineering students and two staff members played key roles in the FIRST (For Inspiration and Recognition of Science and Technology) World Championship.
The event was held April 27 – 30 in St. Louis, Missouri, with more than 600 teams from 29 countries competing in the three levels of FIRST: FIRST LEGO League (FLL), FIRST Tech Challenge (FTC), and FIRST Robotics Competition. Thirty teams of six to nine-year-olds participated in the Junior FIRST LEGO League (Jr.FLL), showcasing their science and technology smarts in the Jr.FLL World Festival Expo.
Representatives from Iowa State were:
Brandon Newendorp, photographer
Chris Stolte, Referee
Chris Tourek, Referee
Brice Pollock, Judge
Kim Glenn, Volunteer Coordinator
Camille Sloan Schroeder, Head Judge Advisor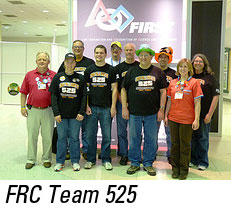 Bruce and Jan Newendorp, two Iowa State alums, served as mentors for the FRC Team 525 from Cedar Falls that made it to the world championship. Bruce is an engineer for John Deere, and Jan also runs the Cedar Falls FLL Regional each December.
Read a story about the event and check out some photos.