While most students were lounging in the sun and taking a rest on spring break, three agricultural engineering (AgE) seniors were busy working with local Nicaraguans to provide a fruit preservation method for their community.
Kristine Gleason, Alyse Herr, and Nicole Stoll partnered with EOS International to travel to Nicaragua and design and test a solar fruit dehydrator.
The team first developed a proposal to field test the dehydrator as part of their engineering senior design project. Although many engineering students design mechanical parts with local companies for their projects, the students thought of something that was on more of a global scale.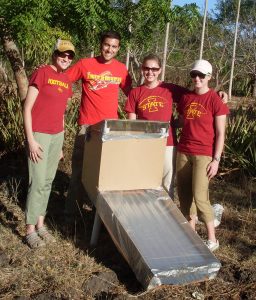 "We wanted to help areas of the world that were underprivileged," said Herr.  "So we started to stretch the ideas of engineering design," added Gleason.
The team used a similar model for a fruit dehydrator that Herr and a previous team working with Engineers Without Borders designed, but they had to specifically calibrate the dehydrator so it would work in Nicaragua.
"We had to change the design to fit with different temperatures and changing sun angles. Onsite testing was a key part (of the project)," Herr said.
The team spent two days building two different fruit dehydrators. The first dehydrator was built using materials from the United States, but the team utilized local, Nicaraguan materials for the second dehydrator.
"We used plywood for the first dehydrator. The wood in Nicaragua wasn't as strong and was slightly warped, so we used particle board (made of Nicaraguan wood) on the second. The particleboard wasn't as sturdy, so we designed two new supports to keep the dehydrator from bowing," said Gleason.
"It was good experience to have to make changes and solve these design challenges," said Stoll. "It was definitely designing on the fly," added Herr.
After building the fruit dehydrators, the team spent two days testing the project at a farm and got feedback on the design from local Nicaraguans., The team got a small taste of life in the rural area and learned about other EOS technologies.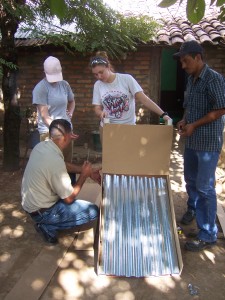 "Besides working on the fruit dehydrator, we were able to see the culture in the rural community. We toured a local coffee bean farm and helped make tortillas," said Stoll.
"It was a great experience learning and working with eager community members on the second dehydrator," said Gleason.
The group said they were thankful for the support and encouragement they received from the Iowa State engineering community.
"The trip would not have been possible without the support and funding from the sponsors from Iowa State including: Carl Bern, Thomas Brumm, Jay Harmon, Steven Hoff, Lloyd Snell, Manjit Misra, Raj Raman, Chenxu Yu, Hongwei Xin, and the ISU American Society of Agricultural and Biological Engineers (ASABE) chapter, as well as the coordination of EOS International staff and Executive Director Greg McGrath," said Herr.
EOS International is a non-profit organization that was founded in 2008 by a group of Iowa State University engineers including McGrath (BSME'08) and Wes Meier (BSME'08). Other Iowa State alums that currently work for EOS International are Joe Lamusga (BSAE'07) and Megan Sellheim (BSCE'06)
To find out more information about EOS International, visit the organization's website.