Zhi J. Wang, associate chair for research of aerospace engineering and professor of mathematics, was recently appointed Wilson Engineering Professor, a position funded by the Grace Miller Wilson and T. Wilson Endowed Engineering Faculty Fund.
"It is a tremendous honor and it feels great to be recognized. The best thing is that this honor is totally unexpected. Meanwhile, I am also humbled by this recognition because there are many deserving candidates in aerospace engineering," Wang said.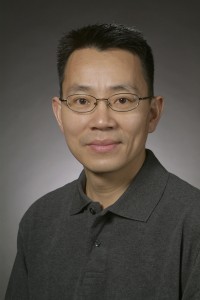 Holders of the Wilson Chair are chosen because they demonstrate a rich understanding of the theory and application of civil, aerospace, or mechanical engineering while holding an established leadership position within the College of Engineering.
Wilson Chair members also maintain high standards of excellence to help build engineering programs that are strong in educational effectiveness, rich in innovation, and current in content to help benefit Iowa State's students.
Wang has been with Iowa State since 2005 and focuses much of his time helping students learn by maintaining an open and approachable style of teaching.
"I strive to help my students succeed in the classroom. It gives me a tremendous satisfaction to watch them grow and do well. I have an open door policy and always encourage them to ask questions," Wang said.
Wang serves as the director of Iowa State's Computational Fluid Dynamics (CFD) Center, and much of his research is done in CFD including both algorithm development and applications. Wang said the methods he has been developing might be used to study flow over helicopters to reduce their noise and improve the performance and design of micro air vehicles.
Wang has also been working to bring other engineering disciplines and colleges together to work on multidisciplinary projects at Iowa State, and as the newly appointed Wilson Engineering Professor, he would like to help lead and facilitate these future endeavors.
"We are working to bring large-scale, high impact multidisciplinary projects to Iowa State. For example, three faculty from aerospace and one faculty from food science and human nutrition are doing preliminary studies on producing design tools for more efficient reactors to grow algae," Wang said. "I am also working with an architecture faculty on applying CFD to design more energy efficient and sustainable buildings."
Wang is active within the American Institute of Aeronautical and Astronautics (AIAA) and has been an associate fellow of AIAA since 2003. Wang served as an associate editor for the AIAA Journal and has organized several AIAA conferences. Wang received the Distinguished Service Award as part of the Fluid Dynamics Technical Committee from AIAA in 2010.
Other awards Wang has received include his doctor of science in engineering from the University of Glasgow in 2008 and the Outstanding Research Award from the department of aerospace engineering at Iowa State in 2008.