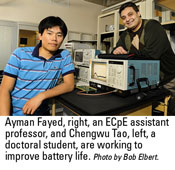 Soldiers carrying sophisticated communication and navigation devices into the field have the same battery headaches as civilians working their smart phones at the airport.
One way to assure that soldiers have an adequate power supply for their electronic tools has been to strap extra batteries to their backs. But Ayman Fayed, an Iowa State assistant professor of electrical and computer engineering, is sure he's found a better way.
Fayed, who admits to frustrations with the battery charge in his own smart phone, is focusing his solution on improving power management in portable devices. He's using a $117,944 grant from the Grow Iowa Values Fund, a state economic development program, to work with engineers at Cedar Rapids-based Rockwell Collins to test his technology beyond his campus laboratory.
Read the full story.