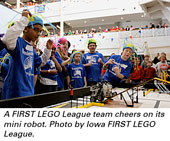 Bone repair. Blood screening. Nerve mapping. Destruction of bad cells. Installation of a pacemaker.
Hundreds of Iowa 9- to 14-year-olds have been working for months to get their LEGO robots to perform simulations of those and other challenges faced by biomedical engineers. The students will show off their engineering skills and compete for top honors during the Iowa FIRST LEGO League Championship from 9 a.m. to 5 p.m. January 15 in Howe Hall of Iowa State University's College of Engineering. The event carries the theme "Body Forward" and is free and open to the public.
The championship will feature 72 teams, each with as many as 10 members, from all over the state, including Ames, Cedar Rapids, Council Bluffs, Davenport, Des Moines, Iowa City, Mason City, Ottumwa, and Waterloo.
Most teams qualified for the state championship by doing well in regional competitions. A few won spots in a lottery draw.
Every team is sure to show up with team T-shirts, funny hats, and screaming cheers. That's part of the fun of the annual competition.
But this isn't just fun with LEGO bricks. The students have to program a LEGO Mindstorms mini robot. They have to face judges' questions about their robots and FIRST LEGO League core values such as teamwork. They have to prepare and present a research project about a current problem in biomedical engineering. And they have to compete against the state's top teams.
Through it all, "Teams will explore the cutting-edge world of biomedical engineering to discover innovative ways to repair injuries, overcome genetic predispositions, and maximize the body's potential, with the intended purpose of leading happier and healthier lives," according to a contest summary.
When they show up at the state championship, "I always want the kids to really show what they learned," said Brandon Newendorp, an Iowa State doctoral student in human computer interaction and student co-chair of the Iowa championship. "I want them to show it to the other teams and to everybody who shows up at the championship."
And then he wants the students to see some of the research capabilities at Iowa State and start thinking about a possible career in science or engineering.
"We hope by students having a fun, hands-on, minds-on experience with LEGO bricks they'll imagine their future in these career areas and understand that they have the potential to make a difference in the world," said Camille Sloan Schroeder, the director of Iowa FIRST LEGO League and director of recruitment and community outreach for Iowa State's College of Engineering.
The state championship is sponsored by Iowa State's College of Engineering, Rockwell Collins, K. Engel Engineering Outreach Endowment, the Mark Guidry Foundation, General Mills, and Loren Zachary, an Iowa State professor of aerospace engineering.
FIRST LEGO League is the creation of FIRST, a nonprofit organization based in New Hampshire that's dedicated to inspiring young people to explore science and technology, and the LEGO Group, the Denmark-based toy manufacturer.
Contacts
Camille Sloan Schroeder, College of Engineering Recruitment and Community Outreach, 515-294-9965, camilles@iastate.edu
Brandon Newendorp, Iowa FIRST LEGO League, 515-294-9965, fll@iastate.edu
Mike Krapfl, News Service, 515-294-4917, mkrapfl@iastate.edu