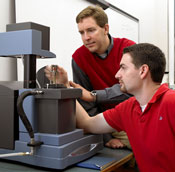 Michael Kessler has worked with polymers that repair themselves when they crack. And he's worked with polymers made from vegetable oils. Now he's working to combine the two technologies.
Kessler, an Iowa State University associate professor of materials science and engineering and an associate of the U.S. Department of Energy's Ames Laboratory, is researching and developing biorenewable polymers capable of healing themselves as they degrade and crack.
Read the full story.