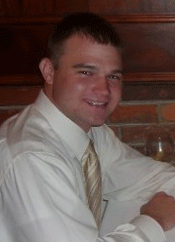 ME senior Luke Borkowski will serve as this semester's College of Engineering student marshal. As student marshal, he will lead the engineering graduating class into Iowa State's graduation commencement ceremony on Saturday, December 18.
Each department has the opportunity to submit a nominee to be recognized. Borkowski was nominated by Johna Wolfe, academic advisor, and Ted Heindel, Interim Chair of the Department of Mechanical Engineering and Art and Priscilla Bergles Professor in Thermal Science. Both gave high regard to his commitment to helping others in the community and his desire to use his education to make a difference.
During his time at Iowa State, Borkowski completed internships with General Electric in the Nuclear and Transportation divisions as well as LyondellBasell and the water division of Black & Veatch. He also served as a research assistant in the Industrial Assessment Center and with the Virtual Reality Applications Center. Additionally, he studied abroad at the San Joaquin de Flores Institute in Costa Rica and participated in numerous activities on and off campus, often filling a leadership role.
Borkowski says the most important aspect he will take away from his experience in the College of Engineering is how being involved in a variety of activities and organizations made him a more well-rounded individual. "My experiences in groups such as Engineers Without Borders and Habitat for Humanity have opened my eyes to the injustices occurring around the world, and it is now impossible for me to ignore the situations of the impoverished."
Borkowski will also graduate with a minor in Spanish. He plans to attend graduate school at Iowa State University, Arizona State University, or the University of Michigan.
Other nominees and the departments that nominated them are Elizabeth Baker, industrial and manufacturing systems engineering; Isha Labhasetwar, chemical and biological engineering; Spencer Pflum, agricultural and biosystems engineering; Meghan Roberts, civil, construction, and environmental engineering; and Aisha (Grieme) Steege, electrical and computer engineering.
Baker will graduate with a degree in industrial engineering. She previously earned a BBA in management and organizations and a BA in sociology (with a minor in psychology) from the University of Iowa in May 2005. Described as dependable, hard working, conscientious, honest, and respectful of others, Baker was committed to the success of several groups on campus as she served in leadership roles in the Tau Beta Pi Honor Society, Engineers' Week, and Alpha Pi Mu Honor Society. She is currently seeking career opportunities.
Labhasetwar is earning a degree in chemical engineering. Throughout her academic career, she has been involved in research and several student organizations in addition to holding an internship at Dow Corning Corporation and studying abroad in Singapore. She also regularly volunteered with Mary Greeley Medical Center as a patient sitter and with the Assault Care Center Extending Shelter and Support. After graduation, she plans to travel and also seek a full-time job.
Pflum will receive a degree in agricultural engineering. He has had multiple internship opportunities and also held numerous positions of leadership in the student branch of the American Society of Agricultural and Biological Engineers. For three semesters, he served as a peer mentor for the ABE department's learning communities. He is said to be a great role model for the students he mentored because he leads by example and is always focused, goal-oriented, and organized. He plans to take a full-time position as an agricultural engineer.
Roberts will earn a civil engineering degree with an emphasis in environmental engineering. Participating in internships at the Federal Highway Administration and Rockwell Collins, volunteer opportunities like Hurricane Katrina relief efforts, and projects such as designing and building rooftop rainwater harvesters with Engineers for a Sustainable World, have helped her build a global perspective. She is planning to stay in the Midwest to work for a consulting firm or the Federal Highway Administration.
Steege is graduating with a degree in computer engineering. During her time at Iowa State, she played a lead role in developing and co-founding the student organization Digital Women, a group she determined was necessary to form to help connect undergraduate women in ECpE with one another and foster a sense of community. She was also involved in many other activities including serving as the director of the robotics venue for IT Olympics and acting as an ECpE Student Ambassador. Upon graduation, Steege will join AgLeader Technology in Ames as a software engineer.