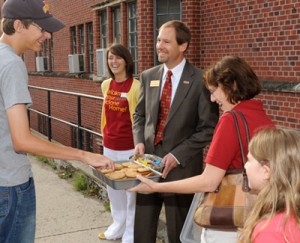 While official enrollment numbers for the fall semester won't be in until after Labor Day, the numbers from summer orientation point to yet another year of growth in the College of Engineering.
Attendance at orientation in June was up 6 percent from the previous year. A total of 1,269 students attended, which exceeded the numbers of any of the other five colleges on the Iowa State campus. If those numbers hold, the College of Engineering will have the university's largest first-year class for the fall semester.
In addition the college is poised for an even larger overall combined enrollment (undergraduate and graduate) than last year, when it surpassed the 5,000-student threshold. Enrollment growth from transfer students and non-resident students is also expected to be significant.
A leaner, more efficient administration is in place as the students settle in. The college spent the summer revising several policies that directly affect students, and also restructured its administration to better serve faculty and students through efficiency and collaboration.
While the restructuring plan reduced staffing in central administration, no academic departments were reorganized or merged, and no major degree programs were eliminated. In fact, the college plans to hire 13 new faculty this year.
"Our highest priority is to protect and enhance the quality of the student learning experience," said Jonathan Wickert, dean of the college. "Our structure emphasizes that the college's administration is a service organization to its customers, particularly students and the academic departments."
Policies for differential tuition and technology funds have been changed to reduce overhead so academic departments can make more decisions locally for the benefit of student learning. Costs to students have been reduced by eliminating fees in 22 courses and by creating a new exemption for differential tuition.
More details about the college's administration can be seen online at the Office of the Dean page.
"The College of Engineering will be known across campus as a model for efficiency and collaboration," said Wickert.
Contacts:
Jonathan Wickert, College of Engineering, (515) 294-9988
Eric Dieterle, College Relations, (515) 294-4881