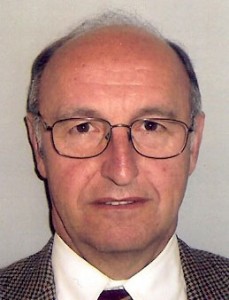 The College of Engineering at Iowa State University has announced that David Jiles will serve as the Palmer Department Chair in Electrical and Computer Engineering (ECpE).
Jiles, director of the Wolfson Centre for Magnetics and professor of magnetics at Cardiff University in the United Kingdom, is making his return to Iowa State. He was named Anson Marston Distinguished Professor of Engineering in 2003 at Iowa State—a rank he will resume—and held a joint appointment with ECpE and materials science and engineering at that time. Although he left for Cardiff University in 2005, Jiles has maintained his ties with the college as a collaborating professor. He is also a research associate with the U.S. Department of Energy's Ames Laboratory on the Iowa State campus, where he formerly held an appointment as senior scientist.
"We are excited and truly privileged to welcome Professor Jiles back to Iowa State," said Jonathan Wickert , dean of the College of Engineering. "His research prominence is well established, as is his outstanding record of achievement in this college. We are very fortunate that he is now willing to dedicate his talent and energy to developing the research and educational programs of this important department."
Jiles' research interests include nonlinear and hysteretic behavior of magnetic materials; magnetoelasticity, magnetostriction, and magnetomechanical effects; development of novel magnetic materials; and applications of magnetic measurements to nondestructive evaluation. He has authored more than 450 scientific papers, has published three books, and holds 19 patents. He has served as editor-in-chief of IEEE Transactions on Magnetics since 2005. He is a fellow of the American Physical Society, the Institute of Electrical and Electronics Engineers, and the Magnetics Society in the United States. He is also a fellow of the Institution of Electrical Engineers, the Institute of Physics, the Institute of Materials, and the Institute of Mathematics and its Applications in the United Kingdom.
Jiles, who was educated in the United Kingdom, earned a DSc in physics and space research from the University of Birmingham in 1990. He holds a PhD in applied physics, University of Hull; MSc in applied nuclear physics, University of Birmingham; and BSc in physics and mathematics, University of Exeter.
"I am delighted to have the opportunity to return to Iowa State University as chair of electrical and computer engineering," Jiles said. "I will seek to continue to develop the reputation of the department, and I look forward to renewing and continuing relationships with other departments and research centers on campus, including materials science and engineering, Ames Laboratory, and the Center for Nondestructive Evaluation."
The Palmer Department Chair was announced in March 2010 and had been awaiting its first recipient. The chair was created through additional earnings from an endowed faculty position established by Iowa State alumni Barbara R. and James R. Palmer in 1986. Proceeds from the Palmer Department Chair will be used to strengthen the efforts of ECpE by supporting the scholarly research and educational initiatives of Jiles, continuing the cutting-edge research and educational programs in the department, and recruiting world-renowned faculty and top students to ECpE.
Current ECpE department chair Arun K. Somani had announced last year that he would step down after serving seven years in that role. He will remain on the ECpE faculty.
"The college is grateful to Professor Somani for his years of excellent service as chair," Wickert said. "Through his leadership, ECpE has become one of our points of pride and is well positioned for long-term success."
Contacts:
Jonathan Wickert, College of Engineering, (515) 294-9988, wickert@iastate.edu
Eric Dieterle, College of Engineering, (515) 294-4881, dieterle@iastate.edu
Dana McCullough, ECpE, (515) 294-3071, schmidtd@iastate.edu