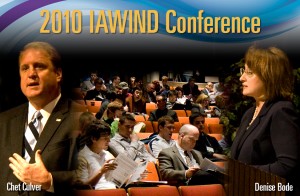 More than 260 attendees from academia, government, and industry met April 6 at the Iowa State Center's Scheman Building for the 2010 Conference of the Iowa Alliance for Wind Innovation and Novel Design, or IAWIND. The event was at once a celebration of Iowa's national leadership in wind power, a challenge to do even more in years to come, and a sharing of expert research and opinion on the subject.
Featured speakers included Iowa Governor Chet Culver and Denise Bode, CEO of the American Wind Energy Association (AWEA). They were followed by industrial experts who discussed new trends in wind turbine design and related technologies, as well as several academic researchers who analyzed recent advances in weather forecasting, energy storage, and the integration of wind power into existing distribution systems.
"Because we had the vision," Culver told the assembly, "today we have nine wind energy companies doing business in this state, including a number of companies that have moved some of their manufacturing and distribution to North America and to Iowa for the first time."
Iowa, Culver added, is one of only two states currently manufacturing all three parts of windmills, including towers, turbines, and blades. This industrial activity, he noted, lies at the heart of a projected $5.7 billion in wind projects slated within a 600-mile radius of Des Moines over the next five years, an economic "windfall" he says will help to lift the region out of the current recession.
Iowa's visionary leadership in wind energy, said Bode, will be the centerpiece of the AWEA's rollout later this week of its satellite media tour, intended to launch a major lobbying effort to encourage political leaders to duplicate on a national scale the kind of support for renewable energy—including firm national targets and the tax incentives historically available to fossil fuels—that Iowa and a number of other states have enacted locally.
"Coal and natural gas have had support through the tax code worth pennies a kilowatt hour since the 1920s," Bode noted. "That long-term support has given certainty to that kind of generation. But what [wind] manufacturer would want to come to this country when the U.S. doesn't have a national policy?"
Bode's remarks put in relief the presentations of a panel of academic experts hailing from Denmark, Ireland, and Norway, respectively, nations with much longer histories, both of wind power generation and the kinds of national policies required to successfully integrate renewable sources into the energy grid. For example, while most U.S. regional transmission system operators have experience in forecasting wind generation levels dating only to 2008 (California has done so since 2004), presenter Henrik Madsen of the Danish Technical University noted that he has been active in wind forecast modeling for Denmark's system operators since the mid-1990s.
That's the kind of expertise American energy producers must cultivate working with research institutions such as Iowa State if U.S. wind production is to succeed over the long term, noted Mark O'Malley of University College, Dublin. An energy iconoclast, O'Malley implicitly challenged the American electric industry's focus on storage strategies for excess wind production, noting that current American targets—20% of electricity from wind by 2030—are woefully inadequate to justify the expense of large-scale storage schemes.
"People say, 'we need storage from wind to help with carbon dioxide.'" O'Malley remarked. "Well, until you get to a penetration level of over 65%, you will not reduce CO2—which means storage is bad for carbon dioxide."
Cheaper—and cleaner—options, O'Malley added, will come from better forecasting, demand management (i.e., "smart grid" technologies), widespread adoption of electric vehicles, and the ability to sell excess wind energy to connected markets.
The conference concluded with panels on workforce development, materials and manufacturing, and health monitoring and reliability, as well as sessions for presenting current research from Iowa's universities. The IAWIND conference was followed April 7 by the Iowa Wind Energy Association's annual meeting, also at the Scheman Building.
The Tribune printed a story on Governor Culver's address to the conference. The Des Moines Register posted a blog on DesMoinesRegister.com as well. Additionally, The Tribune covered the American Wind Energy Association conference on April 7.