The College of Engineering hosted its first Diversity Fair on October 6. More than 125 people attended the fair, which promoted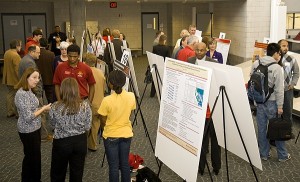 collaboration and idea sharing focused on efforts to increase the numbers of women and students from underrepresented groups in engineering and science and technology programs at Iowa State.
In opening remarks, Iowa State University President Gregory Geoffroy praised the college for its ongoing efforts to promote diversity and said that strengthening diversity has been and will continue to be a top priority for the university. "We must continue to improve the learning environment and climate on campus," he said, "so that everyone, regardless of background, can succeed at a high level."
Freeman A. Hrabowski III, president of the University of Maryland, Baltimore County (UMBC), gave the keynote address sharing some of the lessons learned as UMBC has developed strategies for success among underrepresented minorities and women in undergraduate education. He noted that when a university makes progress in these areas, it will gain visibility. As an example, U.S.News and World Report selected UMBC as the number one "Up and Coming School" in 2009.
Hrabowski emphasized the importance of understanding the trends. That includes everything from understanding the changing U.S. demographics to knowing how each discipline is doing in recruiting and retaining students. "Large numbers of engineering students change majors in the first couple of years. What can we do to retain students in engineering?" he asked.
UMBC's success can be attributed to such things as a focus on community, a nurturing faculty, teamwork, and an emphasis on performance in the first two years, according to Hrabowski. "Our goal is to educate superbly, to make sure our students have a strong grasp of the material," he said. "If a student earns a C in the first level of work, he or she has to retake the course."
Hrabowski added that a major factor in attaining a diverse undergraduate enrollment is a diverse graduate enrollment and diverse faculty. "It takes researchers to develop researchers," he said. Hrabowski concluded by saying, "Each institution has to decide how it wants to be known and what it has to do to achieve that goal."
The Diversity Fair also included a poster session featuring 31 programs that focus on diversity efforts across the college and campus. Derrick Rollins, engineering assistant dean for diversity, encouraged participants to network and share their ideas for strengthening diversity in the college. He noted that while the number of females and underrepresented students is increasing, there is much work to be done to continue recruiting a more diverse student body and for retaining the students who choose to come here.
More information is available at Engineering Diversity Affairs.