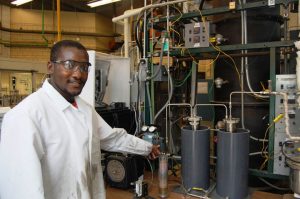 Mark Mba Wright, a doctoral student in mechanical engineering with a chemical engineering minor, has been awarded the 2009 George Washington Carver Scholarship Prize for Outstanding Student Achievement in Biorenewables.
This is the second year the Bioeconomy Institute and the Biotechnology Industry Organization (BIO) have awarded the $4,000 prize recognizing the research contributions of a student in Iowa State's Biorenewable Resources and Technologies (BRT) graduate program.
Wright, who is just beginning work on his PhD, has already had a remarkable academic career. He has published three journal articles on technoeconomics of biorenewable technologies; participated in a collaborative project involving Iowa State, the National Renewable Energy Laboratory, and ConocoPhillips Company to compare the costs of producing transportation fuels from biochemical, gasification, and fast pyrolysis pathways; and co-authored a paper about and participated in the Scientific Committee on Problems of the Environment Biofuels Project in Gummersbach, Germany, which addresses environmental concerns of large-scale adoption of biofuels.
In addition, he has presented at several conferences including the 29th Symposium on Biotechnology for Fuels and Chemicals in Denver, Colorado; 2007 and 2008 Iowa Academy of Science Conference; and 2006, 2007, and 2008 Iowa Bioeconomy Conference.
He completed his master's degree in the BRT program, appreciative that the multidisciplinary program encourages learning about biofuels from different perspectives. "I am honored to receive the award, and I hope it raises attention to the work being done by the faculty, staff, and students involved in the BRT program," Wright says. "As a graduate of the program, I am glad students who put in effort to tackle the challenges of developing biorenewable products for our society are recognized."
Robert Brown, Gary and Donna Hoover Chair in Mechanical Engineering and director of the Bioeconomy Institute, nominated Wright for the award. "Mark's noteworthy publications are built around a systems perspective on problems in biorenewables, which aligns with our emphasis at the Bioeconomy Institute," Brown says. "This award provides the institute with an opportunity to recognize students' early achievements as emerging researchers, as well as attract high-quality students to a new field."
After graduate school, Wright plans to continue research in the biofuel area by applying to industrial and academic positions with a strong emphasis on biomass conversion research. He will be recognized for the award at the BIO World Congress in Montreal in July and during the 2009 Growing the Bioeconomy Conference at Iowa State University in December.