Dr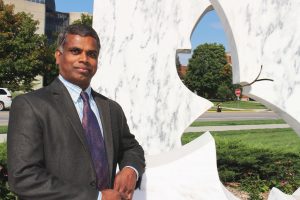 . Manimaran Govindarasu, Mehl Professor, has assumed the role of interim chair of the ECpE Department.
Former Department Chair Dr. David C. Jiles left in August for a Jefferson Science Fellowship at the U.S. Department of State.
Govindarasu said Jiles did an excellent job leading the ECpE Department and hopes to continue what Jiles started.
Going into the 2016-17 school year, the department has expanded to approximately 2,000 undergraduate students and 375 graduate students. In the last few years, ECpE has seen a steady increase in competitive research grants, launching new research and educational initiatives and scholarly outputs and impacts.
With these positive trends, Govindarasu said the department is focused on hiring and retaining high quality diverse faculty and staff and expanding experiential learning opportunities for students.
"The college has been very generous to us, and we hope to use this opportunity for more growth in the department," Govindarasu said. "We want to have a strong student body and highly visible and impactful research and educational programs."
Govindarasu said he is working with the future Department Chair, Ashfaq Khokhar, and the College to set the groundwork for Khokhar's upcoming term.
"Ashfaq and I have plans to meet throughout this semester, and we will continue to be in contact with one another," Govindarasu said.