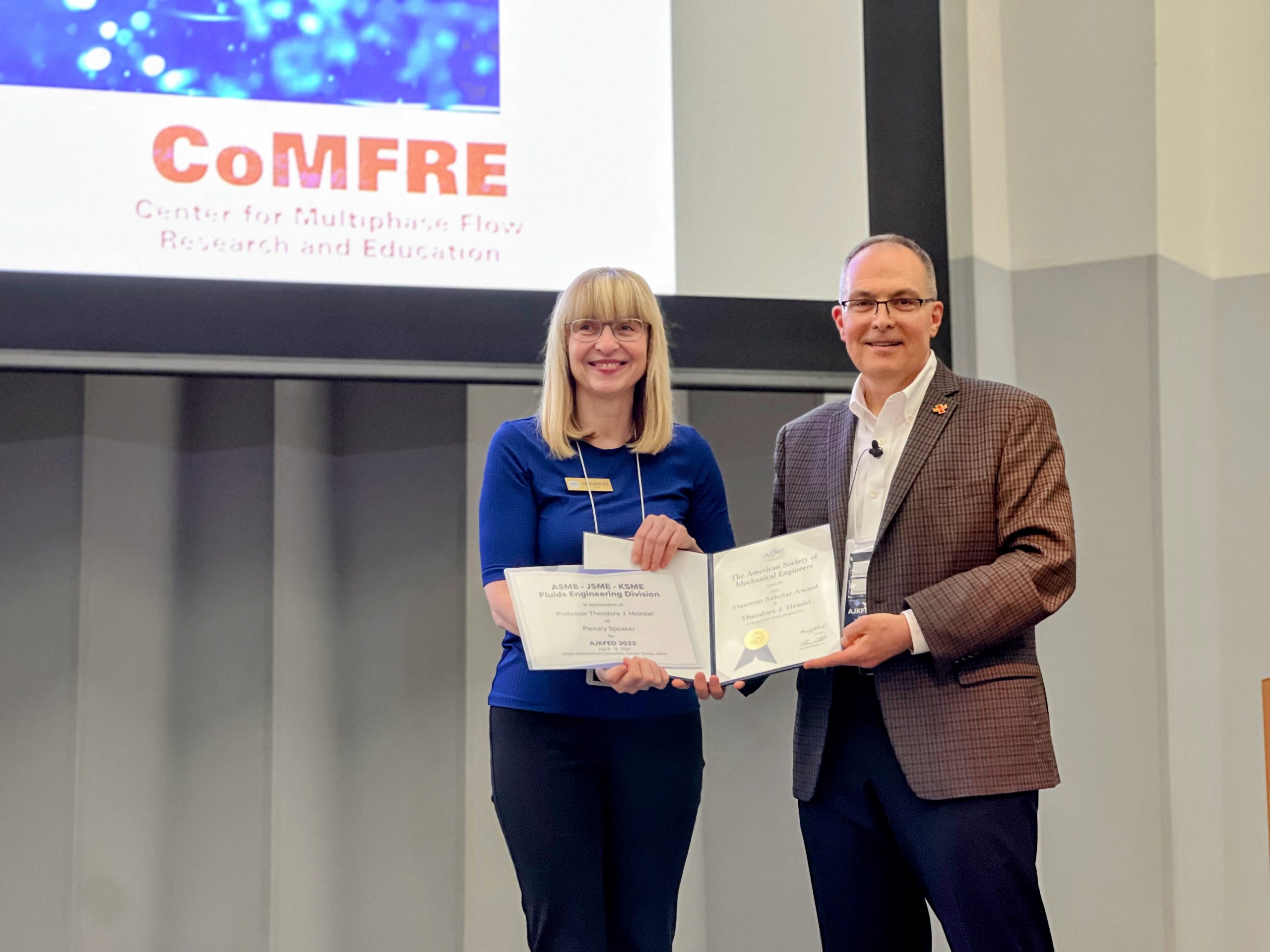 Theodore (Ted) J. Heindel, the Bergles Professor of Thermal Science, University Professor of mechanical engineering, and director of Iowa State's Center for Multiphase Flow Research and Education (CoMFRE), has been selected to receive the 2023 Freeman Scholar Award from the American Society of Mechanical Engineers (ASME).
The ASME Freeman Scholar Award Committee and the ASME Committee on Honors selected Heindel in recognition of his exceptional contributions to the field of fluids engineering, particularly X-ray flow visualization. As the 2023 Freeman Scholar, Heindel is writing a review on "X-ray Flow Visualization: Techniques and Applications," and will submit it to the Journal of Fluids Engineering. He also recently presented a plenary lecture on the same topic at the 2023 ASME-JSME-KSME Fluids Engineering Division Summer Meeting in Osaka, Japan.
Heindel's research has been funded by over 60 projects related to fluid mechanics, multiphase flow hydrodynamics, gas-liquid mass transfer, particle-particle mixing, or X-ray flow visualization and characterization.
And his discoveries have made a significant impact in many applications, including petroleum- and bio-based chemical and fuel processing, energy generation, food processing, agricultural waste management, pharmaceutical manufacturing, and wastewater treatment.
Heindel has led and expanded CoMFRE to a collaboration of over 25 faculty with interests in multiphase flows and five member companies. And Heindel has authored more than 100 peer-reviewed journal publications, over 280 conference papers, abstracts and technical reports, and is co-author of "An Introduction to Bioreactor Hydrodynamics and Gas-Liquid Mass Transfer." 
He's an active and longtime contributor to the ASME organization, serving in the past as associate editor of ASME's Journal of Fluids Engineering and chair of the Fluid Measurement and Instrumentation Technical Committee, among many other ASME positions.
Heindel is currently an associate editor of the International Journal of Multiphase Flow (IJMF) and is co-founder and co-organizer of the IJMF'svirtual spotlight seminar series, which organizes six international seminars each semester.
Heindel's outstanding achievements as a researcher and instructor have previously been honored with election to Fellow of the ASME, the College of Engineering D.R. Boylan Eminent Faculty Award for Research, Regents Award for Faculty Excellence, Exemplary Faculty Mentor Award, Engineering's Superior Engineering Teacher of the Year Award, two-time chosen Department of Mechanical Engineering Professor of the Year, and more.