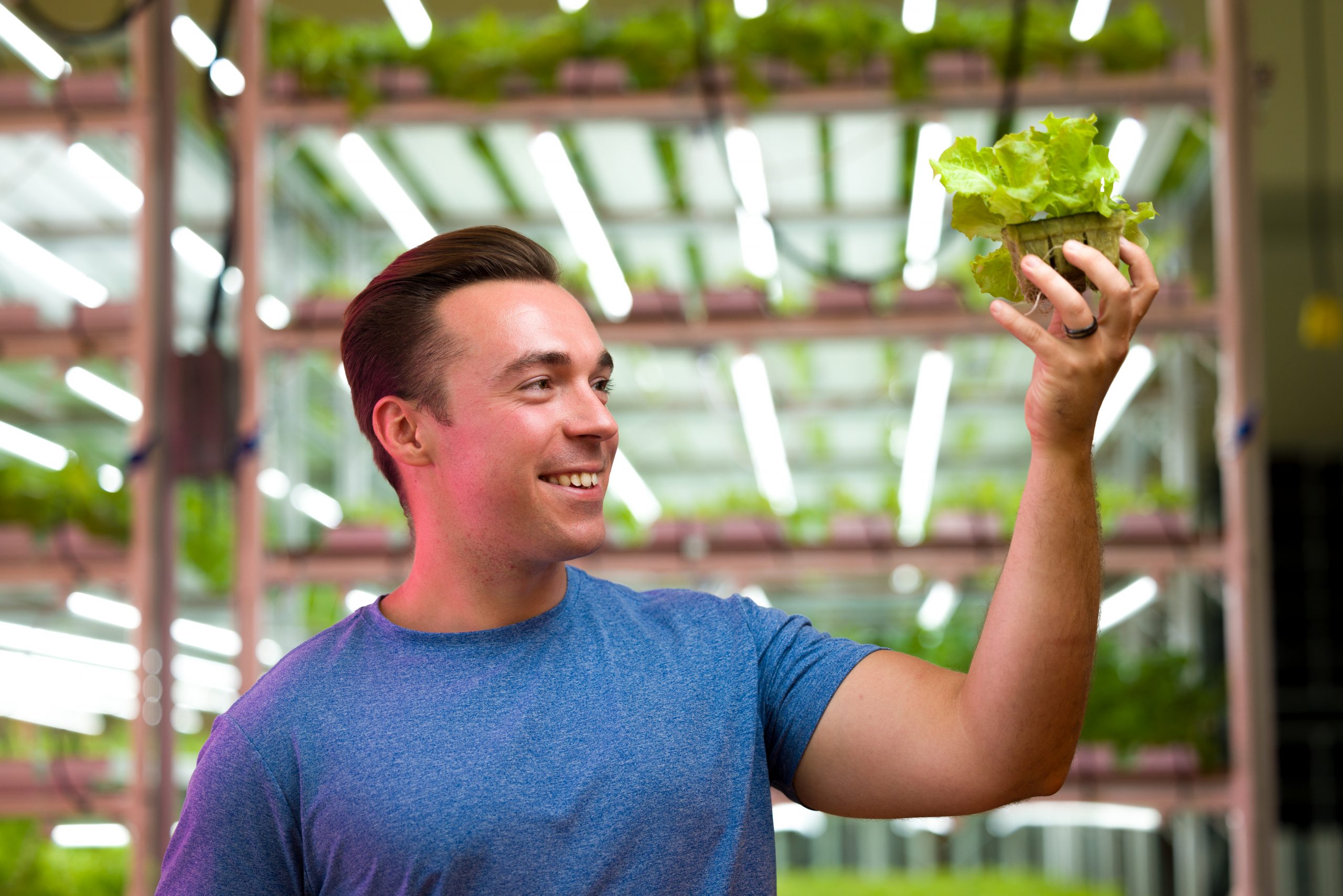 Nick Herrig ('17 indust engr) is the lead software engineer for Clayton Farms, an Ames-based startup that delivers soil-free-grown produce to customers' homes – the same day it's harvested. 
After graduating and working in process improvement and IT for large companies for a few years, Herrig realized he was still hungry for the fast-paced world of startups.
I enjoyed what I was doing in tech in a big company, but I just realized one day that I had that itch to build things from scratch and use my passion for building systems with technology to help start something new.
Having an industrial engineering education makes it possible for me to view problems from a very big-picture, systemic point of view. So many classes taught me the tools for a systems perspective and see how "turning a knob" over here will cause a change over there. And I built on those skills I learned on campus, using data to improve processes, in internships at Disney, Altec, and ConAgra and a full-time job at Principal.
Then, on the side, on my own, I added software development to my skillset, by reading books, practicing and hanging out with developers. And many of those developers I learned from were Iowa State alums. 
Then – and now – I always notice that the Cyclone Engineers are smart, yes, but what really stands out about them is that they are excellent at working with other people. Iowa State does a great job encouraging collaboration and providing students with a support system of other students.
I knew Clayton Mooney, co-founder of Clayton Farms, from when we were both in the Pappajohn Center student entrepreneurship program, CYstarters. Clayton Farms had just transitioned to offering home delivery when I saw they were hiring a software developer, and I reached out to Clayton – and here I am now, in the perfect spot. 
Clayton Farms is vertically integrated, so I get the chance to solve problems for many different parts of the company. And to keep an eye on how they are all related to each other. It feels good to be part of producing food in a way that conserves water and doesn't use pesticides, but maximizes flavor and nutritiousness.
Right now Clayton Farms has over 500 subscribers in Ames, Des Moines and Cedar Rapids. And we are expanding into a second farm location to serve the Twin Cities in Minnesota, with more than 60 subscriptions already. There's a lot to be excited about because we are learning and growing every day – lettuce and the business.