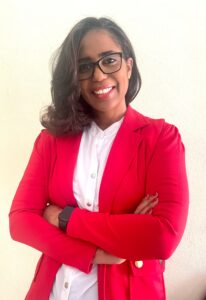 Education: PhD, Civil Engineering, Geotechnical Engineering concentration, Iowa State University, 2020. MS, Civil Engineering, Geotechnical Engineering concentration, Iowa State University, 2017. BS, Civil Engineering, Universidad Autónoma de Santo Domingo, 2009
Research focus: Risk assessment of slope stability, heterogeneity and uncertainty, probabilistic characterization of geomaterials, geotechnical asset management, experimental design and FSS, laboratory testing optimization, numerical modeling
Joins Iowa State from: Research associate position, University of Bath in England
Recognitions and awards: Fulbright Scholarship recipient, Research Associate Grant Writing Hackathon Winner at the Early Career Researcher Event, ACHILLES program in Southampton, England; Research Excellence Award at Iowa State; Certified Finalist at the 3MT Graduate College Competition at Iowa State; Winner at the 7th ISU CCEE Poster Competition/Geotechnical and Materials 
How do you hope your research discoveries impact the world?
My research interests revolve around the integration of advanced statistical theories with geotechnical analyses such as progressive failure of clay embankments, long-term degradation of dams, analysis and design of pile-reinforced slopes, hazard mitigation, risk assessments of slope stability, and soft soil engineering and predictions.
There are several dangers associated with faulty geotechnical design or improper maintenance: embankment failure, rock falls, landslides, mudflows, and pavement or bridge collapse, just to name a few. These incidents directly affect human safety and can contribute to costly and deadly disasters. By integrating advanced statistical theories with geotechnical analyses, my goal is to provide robust frameworks and tools to help decrease the inherent uncertainties of geotechnical assessments.
I hope my research will help the geotechnical profession move forward with the demanding data analysis requirements of these times to measure and decrease uncertainties related to slope failures around the world. I believe my prediction tools could be the basis for future algorithms for smart instrumentation for early detection of critical failures affecting different components of highway infrastructure projects in the U.S. and globally.
What kind of classroom and teaching experience do you look forward to creating at Iowa State?
During my childhood, as the daughter of a schoolteacher, I decided that I wanted to become a university professor. I was inspired by the way I saw my mother pouring her soul into every single lecture. I perceive teaching as a coordinated process in which the students and I learn, grow, and expand our knowledge both technically and personally.
I am looking forward to setting a great atmosphere for learning. I believe classroom environments should be focused on the students. I would like to motivate and create interest in the subject through my enthusiasm and excitement. To achieve this goal, I will share my experiences about the subject and how they relate to day-to-day life. I will implement active learning strategies of team-based learning methods.
I hope to encourage students to see how geotechnical engineers fit into the "big picture," to be confident in their strong fundamentals, and to use critical thinking skills to solve the next challenges in our field.
What drew you to join Iowa State?
As an Iowa State alumni, I look forward to teaching and mentoring at the university where I've had several very remarkable teachers and mentors inspire me and give me the confidence to pursue my academic endeavors. Although the research that I conducted at Iowa State paved the base for my multidisciplinary research efforts, I expanded my skills beyond Iowa State, so I am looking forward to bringing back the new teaching techniques, mentorship skills, grown network, and independent research efforts I've grown since. I am excited about this position, and I feel there is knowledge, collaborations and techniques I am bringing back that has the potential to complement the existing strengths of the department and university.