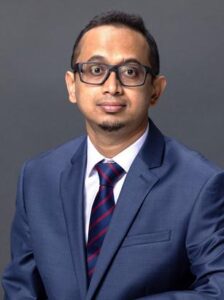 Education: PhD, Mechanical Engineering (Materials Science and Engineering minor), Iowa State University. MTech, Mechanical Engineering, Indian Institute of Technology, Madras. BTech, Mechanical Engineering, West Bengal University of Technology, India 
Research focus: Multiscale metal additive manufacturing, advanced materials processing, surface engineering, tribology, and drivetrain (gears and bearing) failure analyses 
Joins Iowa State from: Assistant professor position, Mechanical Engineering, University of North Dakota
Recognitions and awards: I was the recipient of the Early Career Award in 2018 from the Society of Tribologists and Lubrication Engineers (STLE) and the 2023 recipient of the Distinguished Early Career faculty award from the Department of Energy-Office of Nuclear Energy. My research has been published in several major international journals in the fields of advanced manufacturing, materials science, and tribology. Next month, I will be traveling to South Korea to deliver an invited talk at the 2023 International Microscopy Congress on applicability of microstructure analyses to solve crucial challenges in large scale metal additive manufacturing. 
How do you hope your research discoveries impact the world? 
The broad research domain I primarily focus on is advanced materials and manufacturing. This encompasses three sub-domains: advanced manufacturing, materials & surface processing, and tribology & surface engineering. Across the United States, we lack reliable supply-chain-skilled engineers to tackle major manufacturing challenges in various sectors such as nuclear, defense and space. As an active researcher in the advanced manufacturing field, I try to focus on the intersection of advanced manufacturing and materials science to understand the process-microstructure-property relationship of different manufacturing processes on select alloy systems connected to specific applications. As a tribologist, I try to develop novel routes to fabricate components with increased surface durability and validate their reliability by specific experimental testing. Currently, we are working on multiple projects related to national security ranging from defense, space and nuclear energy sectors. 
What kind of classroom and teaching experience do you look forward to creating at Iowa State? 
Within the classroom, I prefer to adopt an interactive teaching style and try to quickly establish a dialog between the students and myself. I aim to perpetuate knowledge and inspire learning. I believe that personal interest is the best motivation for learning. More specifically, besides clearly presenting the basics of the course material, I like to link the fundamental knowledge of the course to real-life problem solving and share my passion for the topics with the students. 
What drew you to join Iowa State? 
Joining Iowa State is like homecoming for me. I spent my first five years in the United States here in Ames for my doctoral study. There are ample collaboration opportunities with university faculty and with scientists at Ames National Lab to work on interdisciplinary problems. I also have some research ideas that might be well accepted by Iowa DOT. Since I work on both fundamental and applied science, the proximity of major industry leaders in ag, manufacturing and aerospace here in Iowa is exciting for future collaborative efforts.