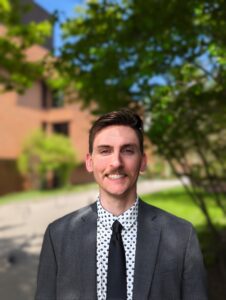 Education: PhD, Mechanical and Industrial Engineering, Rochester Institute of Technology, 2023. MS, Industrial and Systems Engineering, Rochester Institute of Technology, 2019. BS, Engineering Science, Wartburg College, 2018 
Research focus: Advanced manufacturing technologies, primarily additive manufacturing. A considerable chunk of my research has focused on improving laser-based additive processes for repair and remanufacturing of cast iron for agriculture and transportation sectors. 
Recognitions and awards: My graduate work has been recognized at technical symposiums and conferences since 2019. Within the last year, my work has been featured at the Solid Freeform Fabrication Symposium and the Institute of Industrial and Systems Engineering Annual Meeting. 
How do you hope your research discoveries impact the world? 
I'm hoping that my research fosters innovation and growth in manufacturing throughout the world but especially within the U.S. and Iowa. It has been exciting to see how 3D printing has been applied in all levels of education and the way we think about prototyping, design, and manufacturing. I hope my research interests inspire students to find creative solutions and develop technology throughout their undergraduate and graduate studies. 
What kind of classroom and teaching experience do you look forward to creating at Iowa State? 
I want to maintain an interactive classroom environment. Manufacturing lends itself to participation and experiential learning. Allowing students to reflect on successes and failures in lectures and lab sections will build a strong foundation for students' future endeavors. 
What drew you to join Iowa State? 
I'm excited to be back in the Midwest! I'm from Algona, Iowa, and Iowa State was always the go-to school for engineering growing up. My educational path took me to different universities for my own education, and I am thrilled that I get to be a part of Iowa State as a professor now!