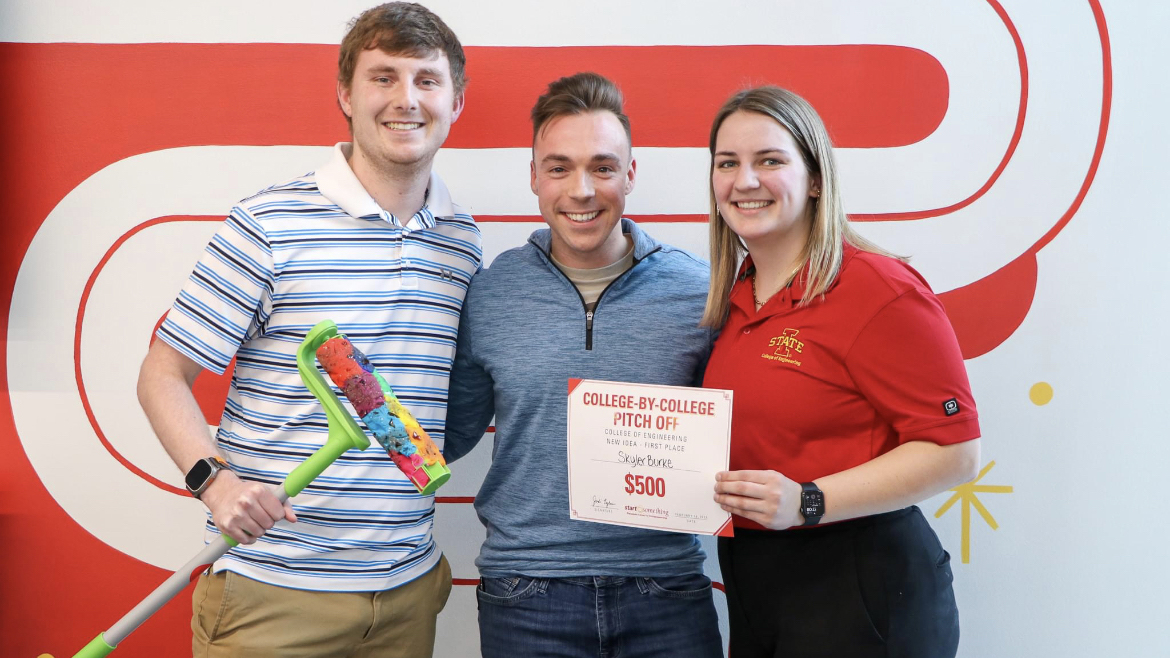 With the Iowa State Pappajohn Center for Entrepreneurship College-by-College Pitch Off competition just around the corner, materials engineering majors Paige Wogahn and Skyler Burke were brainstorming product ideas to pitch until… glass shattered in Burke's sink. And from that, a business idea was born.
Engineering the pitch
As anyone who has ever cleaned up mess of hundreds of sharp shards knows, it's a slow process and can be dangerous.
With what they learned in a Entrepreneurial Product Engineering class, Wogahn and Burke designed a solution. Think of an industrial lint roller. In this case, the roller is covered in a putty material to pick up even the smallest of pieces, and the rod extends up to five feet.
"Instead of using your hands or something else, even a broom and dustpan gets things caught in cracks and crevices, the Safety Roller helps pick up glass or metal shards out of tough to reach places, safely and efficiently," Burke said.
Woghan and Burke's idea won first place and $500 for the College of Engineering in the College-by-College Pitch Off. But the competition provided a lot more than certificates and prizes.
Sticking with business skills
"The pitch off bridges the gap between engineering and business for me, because both sides rely on each other, you can't sell a product you don't have and why would you make a product you can't sell," Wogahn said. "I also think it really helped me with confidence, public speaking and getting involved on campus.
Burke agreed that it built his confidence as well, and he learned more about marketing, business and communication.
"I highly recommend doing the pitch off to anyone who wants to improve their business skills and put their self out there, it has been a really rewarding journey," Burke said.
On-campus innovation resources
"We're continuing to improve our product. It is very much an in-depth, living, breathing project," Wogahn said. "We're doing market research and expecting to create more attachments to reach in tighter areas, polymer putty that sticks to the roller and lint roller sheets that you peel off, use once and dispose of."
And Wogahn and Burke are using many innovation resources right on campus to reach their entrepreneurship goals.
"There's a lot of low cost or free materials and tools in the Student Innovation Center, as well as some of the other engineering buildings. So, the facility and machining fees are minor, which is a very great perk of being and Iowa State student," Burke said. "Across campus, you'll find so many student resource centers, labs and people here at Iowa State that want to help you succeed," Burke said.
Want to turn your ideas into action like these two Cyclone Engineers? Check out all the ways you can Innovate at Iowa State.