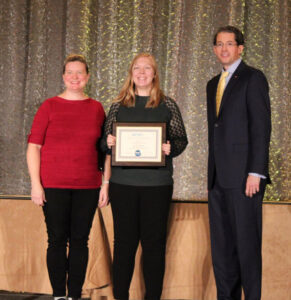 The American Institute of Chemical Engineers (AIChE) student chapter from Iowa State University has once again returned from the national Annual AIChE meeting with some important honors.
The meeting includes special events, ceremonies, competitions, social events and networking for chemical engineering students from around the nation.  This year's edition was held in Orlando, Florida.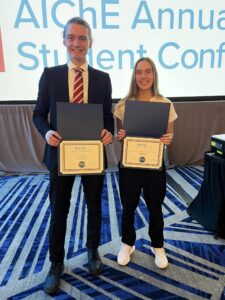 For the third time in the last four years Iowa State's contingent was named Outstanding Student Chapter. The ISU group has been recognized as a national leader in many areas, such as conference hosting, academic honors, competition successes, and efforts for the benefit of other student chapters.
Other Iowa State student honors included:
Michael Galvin, current chapter president, received the Donald F. and Mildred Topp Othmer Scholarship Award, one of 15 presented each year. It honors outstanding academic achievement and involvement in student chapter activities. 
Sullivan Flynn received the First Year Student Award
Mariella Vitelli received the Donald F. Othmer Second Year Student Academic Excellence Award
Zoe Ostrowski took first place in the Food, Pharmaceutical and Biotechnology category in the research poster competition
Michael Galvin placed second in the Catalysis and Reaction Engineering research poster competition
Victoria Kyveryga took second place honors in the Materials Engineering and Sciences research poster competition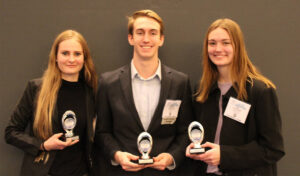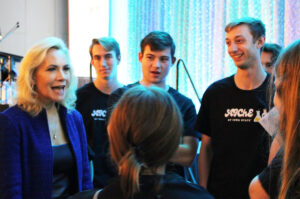 The ISU chapter was also represented by the ISU Bridge team in the Chem-E-Car competition and a group of students who participated in the K-12 outreach competition.
A total of 20 students from Iowa State took part in the conference with faculty mentors Stephanie Loveland and Thomas Mansell.