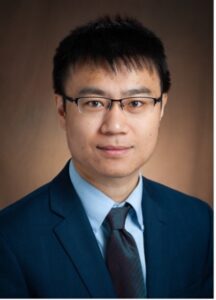 Education: PhD, Civil and Environmental Engineering, Northwestern University, 2016. BS, Civil Engineering, Case Western Reserve University, 2011 
Research focus: Employing multiscale modeling techniques combined with validation experiments to advance our fundamental understanding and design of structural and multifunctional materials and interfaces from "bottom-up" and "data-driven" perspectives. 
Joins Iowa State from: Assistant professor position, Civil, Construction and Environmental Engineering, North Dakota State University 
Recognitions and awards: My work has been recognized with several honors and awards, including the NSF CAREER Award, ACS PMSE Young Investigator Award, ND-ACES Early Career Faculty Award, MSDE Emerging Investigator, NIST-MML Accolade for Technical Excellence, Materials Genome Initiative (MGI) Fellowship, and Chinese Government Award for Outstanding Students Abroad. 
How do you hope your research discoveries impact the world? 
My research aims to establish a predictive materials-by-design strategy that optimizes the multifunctional performance of advanced structural materials. By advancing our understanding of complex material systems through modeling and computation, I believe my research discoveries have the potential to transform our design and development of next-generation high-performance materials, driving innovation across various fields in science and engineering. 
What kind of classroom and teaching experience do you look forward to creating at Iowa State? 
My goal is to create an inclusive and interest-driven learning environment for our students. At Iowa State, I will facilitate an interactive classroom in addition to presenting scientific concepts in a way that can help students think effectively and cultivate their interest in engineering. 
What drew you to join Iowa State? 
The unlimited prospects for research, teaching and service at Iowa State, along with its world-class engineering and science research, make it an ideal environment for me to advance my career. The collaborative opportunities within and beyond the College of Engineering, including the U.S. Department of Energy's Ames National Laboratory, align perfectly with my research interests. I am eager to make significant contributions to the university and the scientific community as a whole.