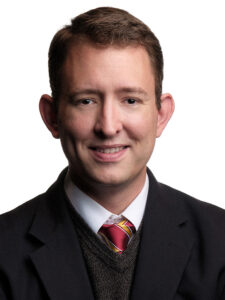 Education: PhD, Mechanical Engineering, California Institute of Technology, 2015. MS, Mechanical Engineering, California Institute of Technology, 2012. BS, Mechanical Engineering, New Mexico Institute of Mining and Technology, 2011. 
Research focus: Computational mechanics of solid materials. In my group, we develop the physics and methods needed to improve our ability to simulate material response to external loads. 
Joins Iowa State from: Associate professor position, Department of Mechanical & Aerospace Engineering, University of Colorado Colorado Springs 
Recognitions and awards: I received the NSF CAREER award. I also received the UCCS EAS Researcher of the Year award. 
How do you hope your research discoveries impact the world? 
Ages of human history have been defined by the materials of the day – from the ancient iron age to the modern "silicon age." In my work, we are interested in understanding and designing tomorrow's materials, from solid rocket motors to shock-resistant space structures, and everything in between. Further, I am interested in computational mechanics of solid materials. (A familiar example of computational mechanics is the simulation of vehicle collisions.) The better we are able to simulate materials, the better we will be at preventing future life-threatening disasters. And, the better we will be at developing new and exciting materials and structures for future technology. 
What kind of classroom and teaching experience do you look forward to creating at Iowa State? 
At Iowa State, I look forward to creating a classroom experience that combines the best of traditional teaching methods with modern engineering education. I value the power of blackboard-style teaching, as it fosters focused learning without distractions caused by excessive technology. My goal is to engage students through lively lectures, interactive discussions, and real-life examples, ensuring a captivating and immersive learning environment. By emphasizing the importance of interaction and minimizing reliance on technology, I aim to cultivate deep comprehension and active participation among students. 
What drew you to join Iowa State? 
I'm looking forward to joining the vibrant research community at Iowa State and working with ISU's excellent students and faculty. I'm very big on collaboration, and a healthy academic community is essential to doing collaborative and multidisciplinary research.