By Lindsey Murray | ISU Pappajohn Center for Entrepreneurship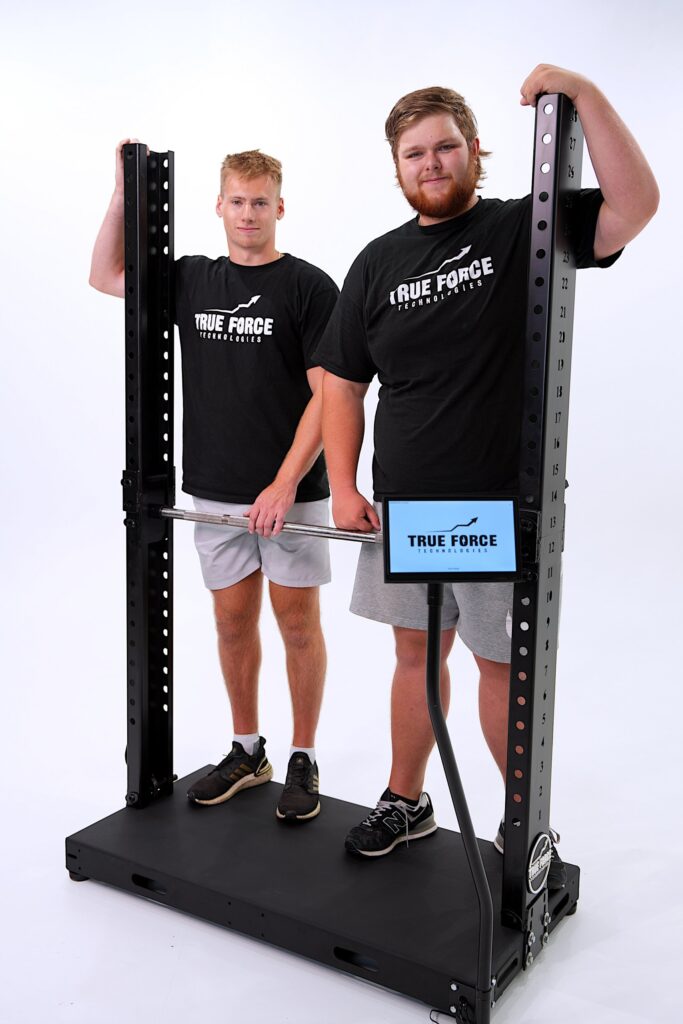 Andrew Bergerson and Jacob Elliott met as students at North Polk High School. They played football together – Andrew as an offensive lineman and Jacob as a kicker. Today, they continue down very different paths at Iowa State University – Andrew studying kinesiology and Jacob studying electrical engineering. From their days on the football field, they knew they played well together and have decided to continue on as teammates in a new business venture.
Prioritizing safety for college athletes
In the fall of 2020, Bergerson headed to ISU to study kinesiology. As he began exploring the mechanics of the human body and started seriously weightlifting, Bergerson connected with the strength and conditioning coach for ISU wrestling, gymnastics and cross country, Ben Durbin. Durbin had coached both Bergerson and Elliott as high school students, so they had a natural rapport.
As Bergerson worked alongside Durbin, he learned that strength is a key indicator of performance for athletes and coaches. Unfortunately, measuring strength in traditional ways, such as lifting heavy barbells, is associated with a high risk of injury and is incredibly taxing to the athlete, especially while in season. Additionally, most coaches utilize the time-consuming method of pen and paper for documenting these metrics. This problem peaked both Durbin and Bergerson's interest and started their journey toward finding a solution that was safe for athletes and efficient for coaches.
A large-scale strength measuring device built on a platform, similar to a bar bell, was the vision that both Durbin and Bergerson had for the product. They knew they could handle developing the platform scale but realized that a huge portion of the product's value was in the software. They needed help with configuring the software to measure an athlete's strength and log the data to a spreadsheet. The first person Bergerson went to for help was Elliott.
Elliott was up to the task, and with his background in engineering and a little help from YouTube, he began developing a software prototype. As the team of Bergerson, Durbin, and Elliott came together, things fell into place as they realized the true potential for the product. They officially launched True Force Technologies in April of 2022.
At True Force Technologies, Bergerson and Elliott create strength and conditioning machines to help coaches better monitor their athlete's strength levels. The device they have created is an immovable bar on which athletes can perform any lift. When the athletes push or pull on the bar, it locks into place, and measures the force of their strength.
The data then feeds into an Excel spreadsheet that logs the metrics and produces graphs to help monitor growth and improvement. With these metrics, coaches can determine how much an athlete can safely lift, whether or not an athlete is peaking their strength in season, and if an athlete is injured, they can monitor progression out of that injury by testing their strength safely.
Celebrating True Force Technologies victories
In the fall of 2022, the team connected with the Pappajohn Center for Entrepreneurship and were encouraged to participate in a pitch contest to test the validity of their idea. Bergerson pitched True Force Technologies in the "existing idea" category at the College-by-College Pitch Off and took home first place. The natural next step for the team was to pitch for a spot in the CYstarters program, and they were selected to participate in the 2023 cohort.
Over the summer, Bergerson and Elliott made significant improvements to the technology they are using to capture data and were able to produce a fully-functioning prototype by the end of the 11-week program. While participating in CYstarters, they ran into challenges developing the software for their prototype. CYstarters program director, Megan Graettinger, connected Elliott with mentors in the software realm who have helped them pivot and take a different approach to capturing the data measured. They've also gained a better understanding of what their customer wants and needs from the product. "…if you think you have a great idea, but your customer doesn't, then it doesn't matter," said Bergerson.
After presenting their prototype and business plan during Demo Day (the final event of the CYstarters program), they received another boost of confidence when they were selected by CYstarters alum, Max Gangestad to receive one of the $1,000 scholarships awarded at the event. The True Force Technologies team has performed thousands of trials of their product on ISU college athletes and currently have three prototypes ready to be sold.
Bergerson and Elliott are grateful to ISU and the Pappajohn Center for Entrepreneurship for providing the resources they needed to kickstart their business.
The team hopes to see True Force Technologies in gyms across the nation and plan to create a subscription-based service to pair with the machine. Let's support True Force Technologies by connecting them with local gyms and sports teams, and following along on their website, www.trueforcetechnologies.com.