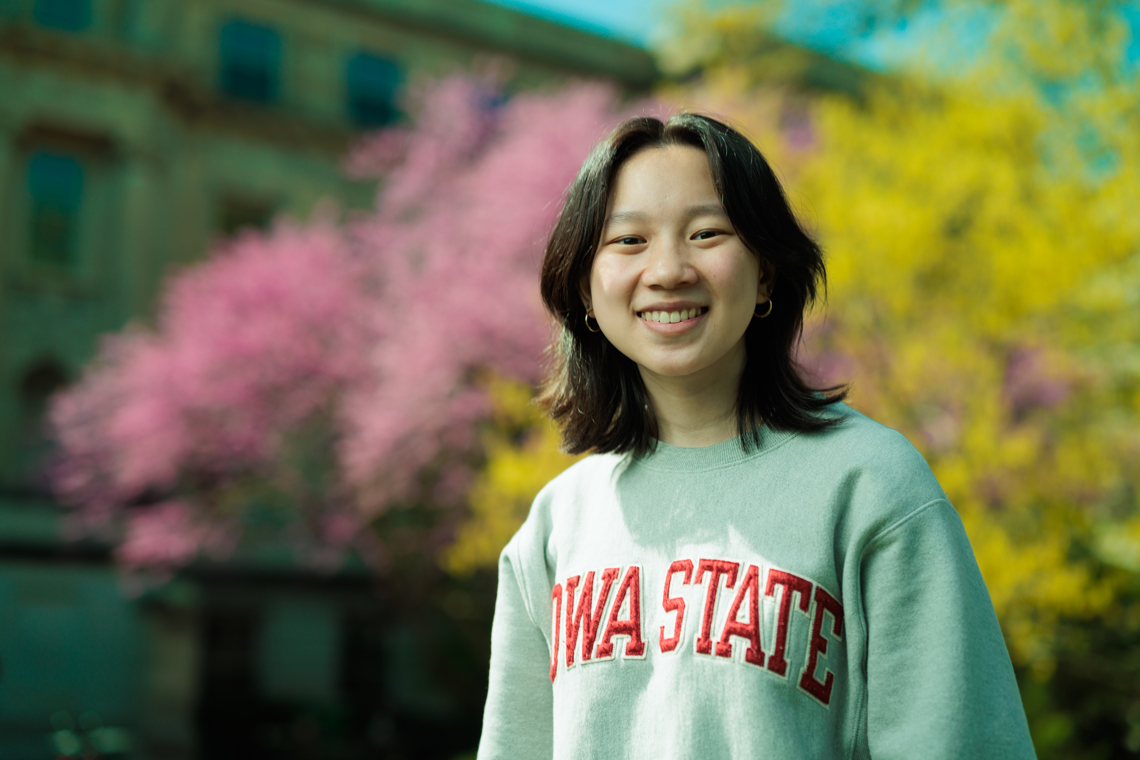 When it comes to getting involved, Katie Wolf, a computer engineering major, is a maximalist. Why work on one minor when she's interested in two? Why not see what another student club is all about? An opportunity to get hands-on research experience? Sign her up.
"Putting yourself out there and trying something new is the best way to learn, connect and thrive here at Iowa State," said Wolf. "I just showed up, a lot of different times, a lot of different places, without many expectations – and was ready to learn."
Multifaceted areas of interest
Aside from engineering, Wolf has chosen a few minors to maximize her time at Iowa State.
Learning Chinese had always been a desire Wolf had to connect more with her culture. At Iowa State, Wolf has continued learning Chinese after starting in high school.
"Since math has always been my favorite subject, my first year when I finished all my general math classes, I was like, 'I think I'm going to miss not working with math.' So I was also excited to add a mathematics minor," Wolf said.
She is currently considering adding another minor in cybersecurity.
Getting involved everywhere
"Well, since my first year on campus was COVID and everything, starting sophomore year, I wanted to turn that around and get involved," Wolf said.
First up: Digital Women, Hackathon Club, Asian Student Union and Photography Club.
"Digital Women has definitely helped me connect with other women in a male-majority field. In general, it's just beneficial having friends in the same major," Wolf said. "Hackathon has been really helpful because you get to learn about all these different applications and frameworks you can use in coding that you don't learn in class."
Next up: the Honors Program, interning at Collins Aerospace and serving on the Senior Vice President for Student Affairs (SVPSA) Student Advisory Board.
"SVPSA Student Advisory Board has been really eye-opening," Wolf said. "As someone who's involved with a lot of engineering-specific stuff, it's really interesting and nice to hear other opinions outside of my little bubble."
And then Wolf headed into the lab to get hands-on experience as an undergraduate researcher, and she's hoping to be an author on her first research publication before she graduates. Wolf is also hoping to study abroad in China if the opportunity arises.  
Making connections
While Wolf has learned a lot about herself and engineering by taking advantage of so many campus opportunities, she's also made meaningful connections with her fellow Cyclone Engineers.
"A big part of college for me was forming close relationships with other students and connections with professors," Wolf said. "I've met a lot of great people at Iowa State, particularly with other women engineering students. It's been challenging, you know, balancing classwork, coding, and all of my involvement, but it's all been worth it. Putting myself out there has helped me become confident in professional settings like interviews with company ambassadors, so I know I'm preparing myself for my future career, too.