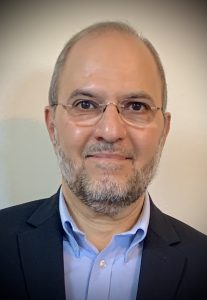 It is with heavy hearts that we announce the passing of Dr. Ahmed Kamal, age 68, of Ames, Iowa on April 30th, 2023. 
Dr. Kamal was born in Cairo, Egypt and was the oldest of three siblings whom he led and cared for with a clear sense of responsibility and conviction. 
Dr. Kamal was first and foremost a loving and devoted family man. He is survived by his beloved wife Nermin Sabry and cherished children Mohammed (Lena), Mona (Ehab), Heba, and Youssef (Noran).  Dr. Kamal took pride in his seven grandchildren Ayah, Maryam, Zayd, Adam, Omar, Noah, and Zayn. 
Dr. Kamal pursued his passion of computer and electrical engineering, earning a doctorate degree from the University of Toronto in Canada.  He dedicated 50 years of his life to being an engineer, teacher, researcher, and mentor to countless individuals.  Twenty-three of those years were at Iowa State University as a revered faculty member. Most recently, he served as a Willard and Leitha Richardson Professor and Director of Graduate Education. 
Dr. Kamal strove to live as a devout and steadfast Muslim his entire life. He was a longtime member of the Darul Arqum Islamic Center in Ames and served as a member of the board of trustees. He was known as a fair and trustworthy pillar of the community. 
Dr. Kamal's legacy has been felt around the world with droves of family, friends, colleagues, and students sharing their personal narratives of how he touched their lives. While our hearts ache at his loss, they are warmed by the countless positive memories and anecdotes that wove the fabric of his life story.  Dr. Ahmed Kamal will be dearly missed. 
Please email the ECpE Department Chair Ashfaq Khokhar at ashfaq@iastate.edu for further communication.