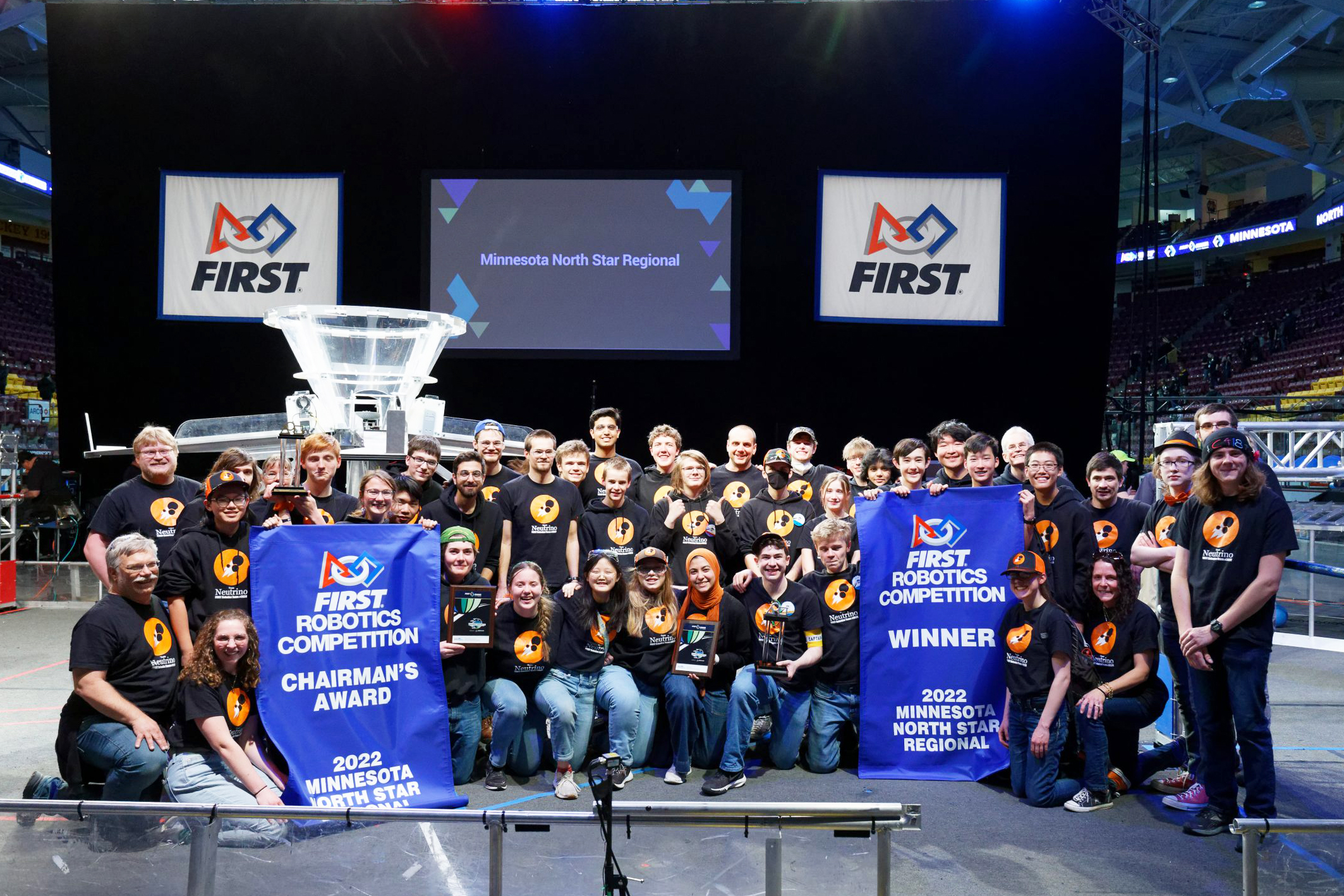 The Department of Agricultural and Biosystems Engineering (ABE) has partnered with Team Neutrino, a FIRST Robotics Competition team for students by helping them provide classroom space to film their educational television show "Full STEAM Ahead."
The acronym STEAM stands for science, technology, engineering, art, and mathematics. In all seven of their 15-30 minute episodes, Team Neutrino highlights a business or organization around Story County to promote different STEAM topics by giving students an experiment they can do at home. Episode one was filmed at the Biorenewables Research Laboratory on campus. Leslie Kim, a senior at Ames High School, explains how ABE has been a huge help in producing the show. 
"ABE has helped us tremendously with providing classroom space for us to shoot some of the show," Kim said. "Thanks to them, Team Neutrino has been able to illustrate fun and creative ways for students to engage in STEAM with our educational show."
Former team member Quinn Margaret is a first-year student at Iowa State University studying business economics and is credited for creating the educational series. The inspiration for creating Full STEAM Ahead started back in 2020 when Team Neutrino's first robotics team had won the Greater Kansas City Regional and qualified for the championship. Unfortunately, they would never get their chance once the Covid-19 pandemic rolled in and put the world on hold. 
But going on hold was something Team Neutrino would try to avoid. Margaret quickly came up with an idea on how Team Neutrino could stay relevant during the shutdown. He decided to bring some members together and start a educational series called "Stay at Home STEAM." 
"It was great to see the show come to life," said Margaret. "We created two to five minute tutorials for kids to create different projects at home, and it would educate them about science, technology, engineering, art, and math." 
When pandemic restrictions eased up by summer 2021, it was apparent "Stay at Home STEAM" was a success due to all the positive engagement it received. But Margaret wanted to continue the momentum and start something new. The members of Team Neutrino took the concept to the next level and created "Full STEAM Ahead," a series that premiered on August 27. 
Margaret joined Team Neutrino first robotics team during his first-year of high school. While STEM wasn't something he'd foreseen himself participating in during his high school years, he quickly found that he loved the team's culture and decided to join. The team not only gave him the technical skills of how to assemble and wire a robot, but as a former student leader he learned invaluable soft skills which he says will benefit any student—no matter their aspirations or prospective major. 
"There's so many skills you learn from being on the team," Margaret said. "You learn things like marketing, communication skills, and a lot of soft skills like developing a leadership style that can bring many different people and groups together."