Iowa State University alum Richard Gumtau had a more than five-decade career as a highway engineer which took him all over the country and even other parts of the world. Gumtau's journey is an aspiring one though it almost ended before it even started because of the academic and financial hurdles he faced his freshman year of college. This would eventually inspire him to support students so they would not need to encounter the hardship he endured.
Richard Ole Gumtau was born on a farm outside of Huxley, Iowa in 1938. His family moved into town, which had a population of between 300 and 400, in 1948. During summers growing up, Gumtau often worked for area farmers doing everything from corn de-tasseling to hay baling to general manual labor. As a teenager he worked for the farm services unit at Iowa State College (as it was then called) and the summer after graduating high school he started working for the college's Agricultural Experiment Station.
"I remember driving a tractor pulling a trailer load of hay bales from a farm south of campus up to the barns on campus. Well, I ended up taking one of the turns too sharply and the bales fell off the trailer onto somebody's front yard. Needless to say, we were scrambling to clean up the mess so that our boss wouldn't find out," Gumtau said, with a laugh.
Giving it the ole "college try"
Attending Iowa State was an obvious choice for Gumtau considering he was offered a tuition scholarship and the fact that the campus was just up the road from his hometown, living at home his freshman year to save money. Gumtau started out in agricultural engineering because of his previous experience as a farmhand, but he struggled in his classes and withdrew from college. He started working for the Iowa highway department, which was located in Ames, and during this period married the love of his life, Roberta Keigley. The couple met after being introduced by a mutual friend.
After a few years of Richard working for the highway department and Roberta working at Dick and Eva's diner, which was located on the corner of Lincoln Way and Lynn Avenue in campustown, the couple decided they were financially stable enough for Richard to return to college. This time around he decided to pursue a major in civil engineering, which was inspired by the work he was doing with the highway department.
Being a bit of a non-traditional student at this point, Gumtau never lived on campus and was not involved with many student activities outside of the Chi Epsilon honorary, which was established while he was student. As a senior, Gumtau was responsible for arranging the first Chi Epsilon banquet.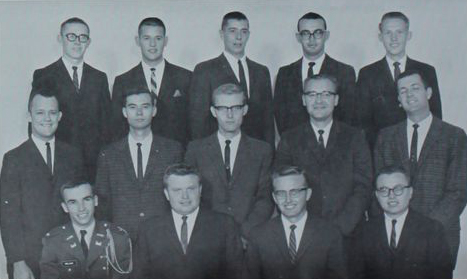 "I arranged the banquet at The Fjord restaurant in Huxley. It was an outstanding Norwegian restaurant," said Gumtau. "Afterwards Dr. Eckberg [then-head of the civil engineering department] told me that he and his wife had always wanted to eat at The Fjord and was pleased with the outstanding quality and low price of the meal."
Gumtau said he had many great professors and instructors while in college. In particular he remembers taking classes with Paul Morgan, whom Gumtau said "did a great job of tying real-life experiences to textbook subjects." Gumtau also remembers his sophomore surveying course with Rudolph "Rud" Lubson, whom he said really put fear into the students but provided lots of worthwhile knowledge that Gumtau would continue to use throughout his career.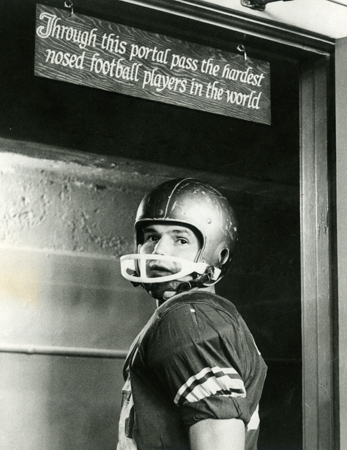 While married life and classes took up much of his time, Gumtau found some time for leisure activities. In particular, he was a fan of Cyclone athletics and attended football games at the old Clyde Williams Field (located just south of where State Gym stands today) as well as basketball games in the Armory. He remembers Dwight Nichols and the 1959 "Dirty Thirty" football team. The team earned this unique nickname because its roster consisted of just 30 players, which was down from 55 at the start of the season. Despite being seemingly shorthanded, the Dirty Thirty squad finished the season with seven wins and three losses, the Cyclones' best season in two decades. The team was anchored by All-American halfback Dwight Nichols, who served in the U.S. Navy during the Korean War prior to coming to Iowa State. Despite his relatively small stature – 5 foot, 10 inches and 165 pounds – the Knoxville, Iowa native finished his college career as the all-time Big Seven rusher with 2,232 yards on 638 carries.
Gumtau was also in attendance when the Cyclones defeated the top-ranked Kansas J-Hawks basketball squad 39-37 on Jan. 14, 1957 in the Armory. Iowa State's Gary Thompson outscored the legendary Wilt Chamberlain in the contest, and Thompson would go on to be named the Big Seven Player of the Year at the end of that season. Thompson was also a shortstop on the Cyclones' baseball team and was part of the 1957 squad that took third place at the College World Series.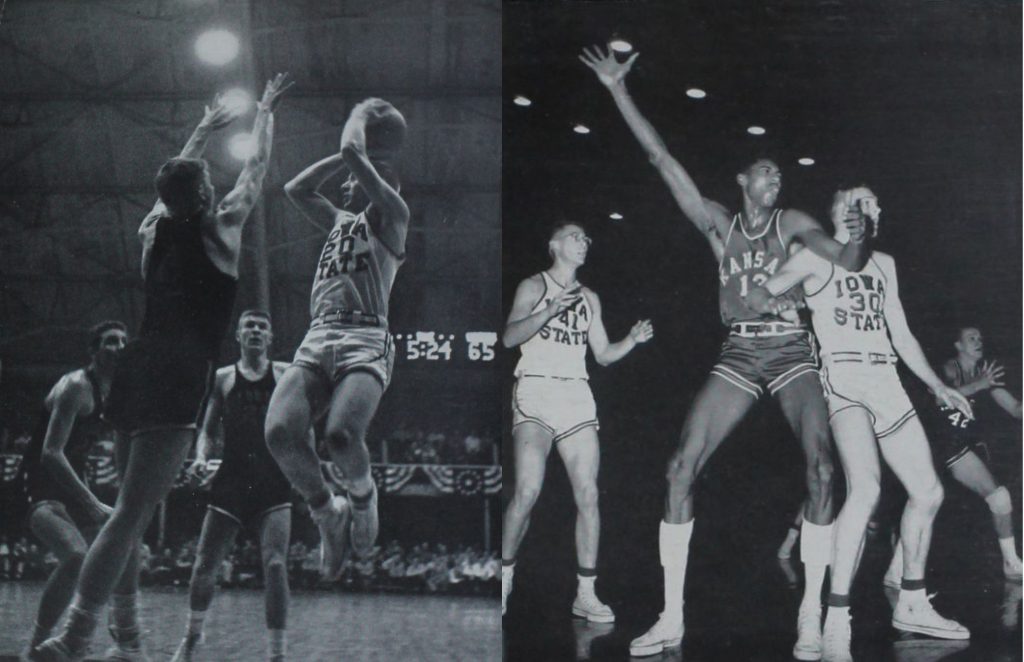 As graduation neared, Gumtau began looking for jobs and had his sights set on the Bureau of Public Roads (BPR). One of his professors set him up with an interview at their Ames office, and Gumtau said the interview went so well that he was invited to stay for their holiday party afterward. Upon graduation, Gumtau was hired by BPR for their three-year junior engineer program where he was exposed to various types of their work and which required him to relocate every four to six months.
Life after college
Gumtau's first assignment took him to southwest Oregon where he worked on highways in the National Forests. Over the next few years, he would live and work in Arkansas, back to Oregon, Georgia, Virginia, Michigan and Minnesota. His first permanent assignment took him to Pierre, S.D. During this time the U.S. Department of Transportation was established and the BPR was renamed the Federal Highway Administration (FHWA).
While living in Pierre, Gumtau was approved for FHWA's nine-month graduate study program and decided to pursue a master's degree in civil engineering from Iowa State to further advance his career. He lived in Ames during this nine-month study program, but did not complete his degree during that period. To complete his degree, he was able to arrange his schedule so that he could continue to work full-time in South Dakota and do his coursework in Ames on the weekends.
"I drove roughly 500 miles from Pierre to Ames every weekend to complete my degree, attend a football game and visit family," he said, adding that he completed his degree in 1972.
Gumtau was the area engineer for the western third of South Dakota when a disastrous flood hit Rapid City in 1972. Gumtau and his team spent several weeks evaluating damage to roads and bridges in the area. He even had the opportunity to ride in a helicopter over the Black Hills to evaluate the damage.
Gumtau then bounced from South Dakota to Colorado and back to Virginia, before settling somewhat permanently in Arlington, Texas, where he served as the highway safety engineer in the Fort Worth regional office. It was here that he was first exposed to teaching, which would become a crucial part of his work until his retirement and even after retirement from FHWA.
"Even though I was the teacher, I found that I learned a lot from my students," he said.
He taught highway safety short courses in cities across the United States and eventually this work took him abroad. In December 1990 Gumtau was sent to Riyadh, Saudi Arabia to teach a five-day highway safety course. It was his first time overseas.
"This was a few weeks before the Gulf War started and I saw much military equipment being moved across the country," Gumtau said.
He would return to Riyadh again in 1991 to teach the same course and conduct some reviews of highways. Riyadh was one of several stops on a trip around the world. In 1994, he received the American Traffic Safety Services Association's National Safety Award for his work to improve highway safety.
He retired from FHWA in October 1997 and began part-time work. For a few years he was a sub-contractor to Louis Berger Consultants and to the University of Tennessee to teach the same highway safety courses he had taught for FHWA. He also worked part-time for the Texas Engineering Extension Service teaching similar courses.    
In 2000, he had the opportunity to teach in New Zealand, which he considers to be one of his favorite countries today. He also taught a similar course in Western Australia.
"The New Zealand and Australian classes were challenging because I had to convert the visuals and problems to driving on the left side of the road," he said.
Outside of work
In 2016, Gumtau "totally retired." He has developed many hobbies and interests over the years including fishing, photography, dealing for a casino party company, woodworking and even beer brewing. While home beer brewing has grown in popularity in recent years, Gumtau was brewing his own beer back in the early 1980s. He brewed lagers as well as other "simple" beers and ended up winning a blue ribbon at a brewing contest for one of his concoctions. Travelling is another one of his favorite hobbies.
"With my work and vacation travels I gained a love for travel. I have been to every state at least four times and many foreign countries," he said, adding that traveling allowed him to find and visit relatives in New Zealand and Germany.
Gumtau remains connected to Iowa State by attending the civil engineer's Honors Banquet and following Cyclone athletics, particularly football. He often watches games on television and whenever possible attends the game watch parties, hosted by the Dallas-Fort Worth area alumni club. He will also make it back to Ames for games when his schedule allows.
Giving Back
In 2000, Roberta passed away. Having lost his partner of 40 years it gave him an opportunity to reflect on his life and the things that matter most to him.
"After my wife passed away, I got to thinking about how much a $297 scholarship from the Story County Engineers Club meant to me in 1963 to help me through my senior year. That's when I decided to establish a scholarship for civil engineering seniors," Gumtau said.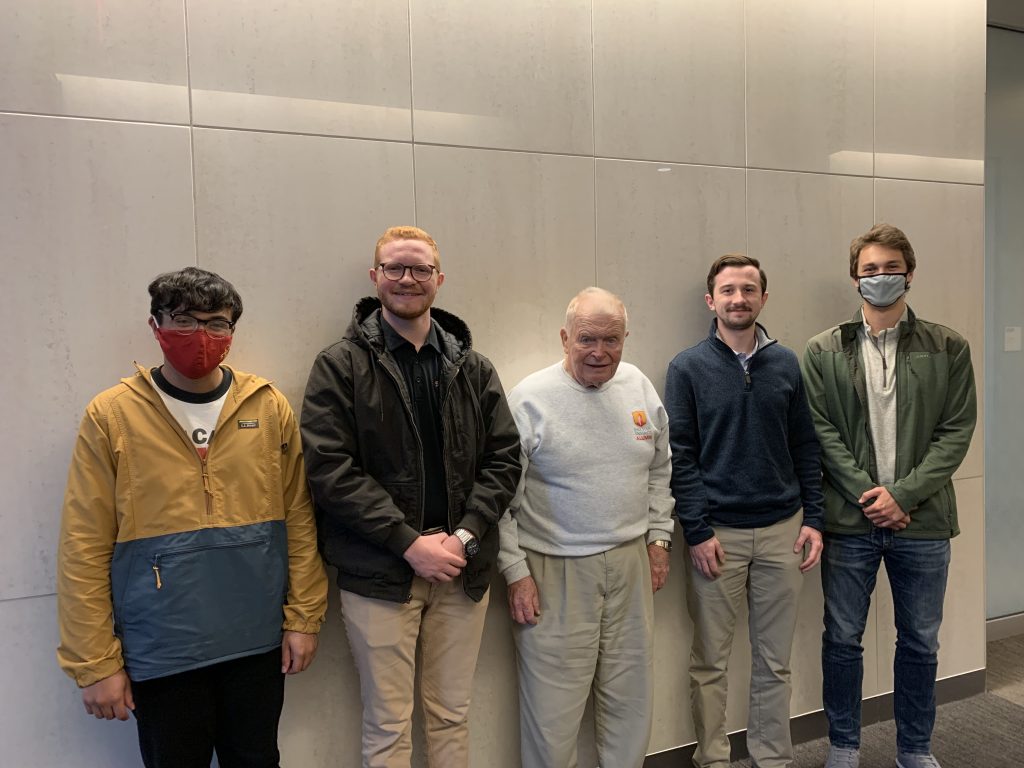 He established the Richard and Roberta Gumtau Civil Engineering Scholarship awarded to civil engineering seniors, with preference given to students who have demonstrated financial need. He saw this as an opportunity to support students' education while also honoring the memory of his late wife. Gumtau said he cherishes the opportunities he's had to meet with the recipients of his scholarship and he collects the "thank you" notes he has received from students over the years. This year seven students received a scholarship.
The Gumtaus also gives back to Iowa State in other ways. In 1981, Richard and Roberta hosted four students who were part of an Iowa State University choir performing in Dallas. "Thank you" notes from two of the singers indicated that they were the envy of the chorus because of Richard and Roberta's generous hospitality, particularly Roberta's homemade nachos. Then in 1993, the Gumtau's invited Iowa State's solar car team over to their house for a Texas barbeque. The team was in Texas because that year's American Solar Challenge rayce went from Arlington to Minneapolis, Minn. He made the trip up to Topeka, Kan. over the summer to cheer on Team PrISUm during the 2021 Formula Sun Grand Prix. He treated the team to pizza for dinner and appreciated the opportunity to meet a handful of the current team members.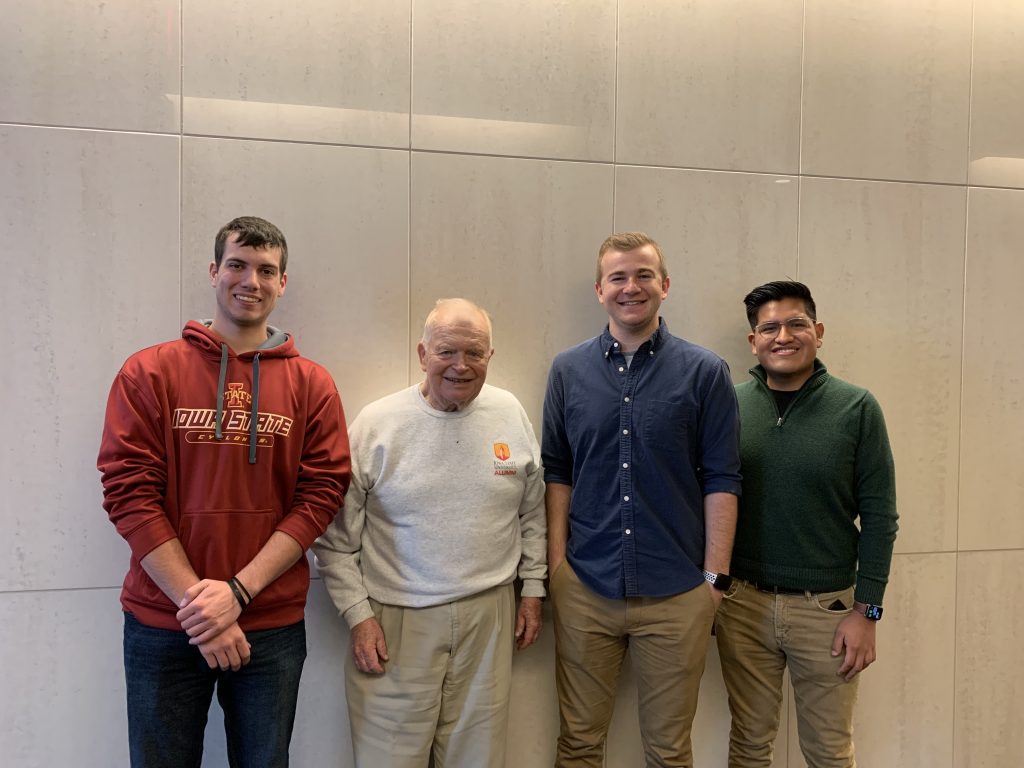 Gumtau was recently on campus for the Department of Civil, Construction and Environmental Engineer's 150thanniversary festivities. He also returned for the CCEE awards banquet. In addition to touring some of the new facilities on campus and watching the Cyclones get a big football victory over the Texas Longhorns, he also had the opportunity to meet some of the current recipients of his scholarship. He had three bits of advice he offered to the young, aspiring engineers. First, he said, they should pursue the Professional Engineer (PE) licensure as early in their careers as possible. Second, he encouraged them to join the Alumni Association. And last, but not least, he encouraged them to give back to their alma mater when in a position to do so, again citing how meaningful that scholarship was to him when he was senior in 1963.
Though it has been nearly five decades since he has lived in Ames in a permanent capacity, he said that the impact Iowa State University had on him will remain with him for the rest of his life.
"My time at Iowa State had an immeasurably positive impact on me both personally and professionally. I am so humbled to be able to give back now that I am in a position to do so, and it's my hope that other alums might choose to give back when they are in a position to do so," he said.