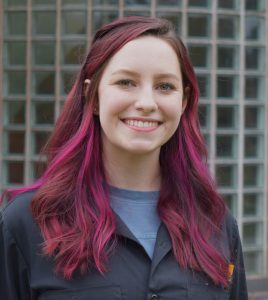 Studying outside is a common scene on the Iowa State University campus during the warmer months, and that ability to study outside became even easier because of an effort by the mechanical engineering department.
Juliana "Jana" Camaioni, senior in mechanical engineering (ME), answered the call when the ME department was looking for ways to increase outdoor seating options to prevent the spread of COVID-19. As the Fall 2020 semester was getting underway, ME department chair Caroline Hayes wanted to increase outdoor study areas close to Black Engineering that would be both safe and convenient for the students.
"Initially, the athletics department lent us some picnic tables, but we knew they would need them back once in-person tailgating started up again," said Hayes. "After considering many options, teaching laboratory specialist Craig Severson came up with the idea to make picnic tables as a training exercise for new Boyd Lab student technicians. This is where Jana came in."
Camaioni combined the design knowledge that she gained through her engineering courses with the fabrication skills she developed working as a student technician in the Boyd Lab to create personal desks, which are currently scattered around outside of Black Engineering Building.
"Personal tables allow students to physically distance without wasting the six feet of lumber between them at a traditional picnic table," said Camaioni. "They also allow for the modularity of having individual tables or arranging them together to form a larger table."
Camaioni took the design for a children's desk and adapted it to fit college students. She also modified the original design by adding additional supports, both for stability and a bit of a "decorative flare." She said her main goal was to make the desks "comfortable, safe and resilient."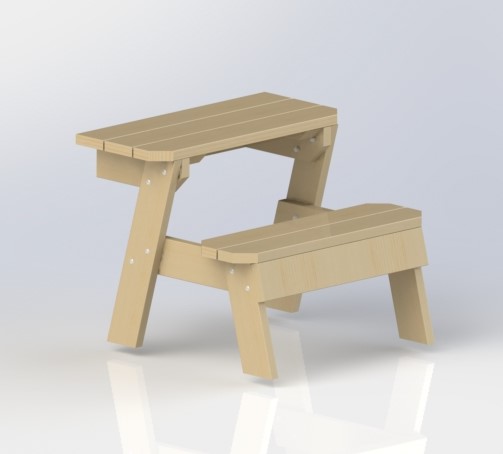 She used SolidWorks, which she learned about in her M E 170: Engineering Graphics and Introductory Design course, to create the design and prototyped it using cardboard. After working out all the kinks, with some help from ME teaching laboratory specialist Craig Severson, she ordered the materials to manufacture the desks, which each stand about 2 ½ feet tall. Vincent Hoffman, senior in mechanical engineering, helped Camaioni when assembling the desks.
Camaioni said she did not encounter any issues in procuring the materials she needed, but did notice that lumber prices were higher than usual during the early stages of the project, which was part of a bigger national trend.
"During the first round of building the tables in September of 2020, the prices were high. Back then a single two-inch by six-inch by eight-foot board was around ten dollars. The price has since dropped," she said.
Camaioni grew up in St. George's Island, Maryland and developed an interest in STEM by watching episodes of the original MacGyver television series, which her parents had on DVD. She said she impressed with the protagonist's ability to get himself out of jams by making tools and other devices using the materials around him.
"Outside of the fictional high-risk government missions we saw in MacGyver, my dad made it apparent to me that life is easier when you can rig up your own toys and tools," Camaioni said with a laugh.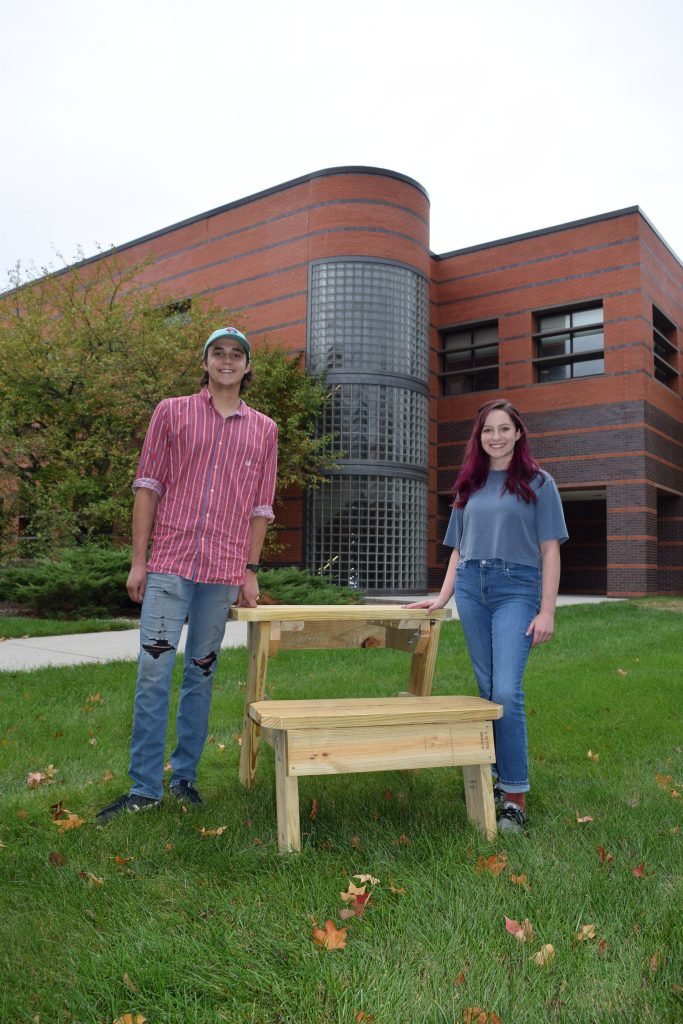 In high school, Camaioni had the opportunity to tour a Boeing facility near her hometown and in the process met several engineers who were alumni of Iowa State University. After doing some research, Camaioni fell in love with the university more than 1000 miles from her hometown.
"I love the campus in the fall. The architecture, art and landscape are an awe-inspiring combination," she said.
As a student, Camaioni was active with Cardinal Space Mining (CSM), working her way up to the role of mechanical lead. She has since stepped away from CSM "to focus on personal passions," but said that her time in the club was invaluable in her professional development. She also said she feels that working in Boyd Lab as a student technician has been one of her most enriching college experiences.
While Camaioni expressed the value of her mechanical engineering courses, it was a materials engineering course that stands out to her as one of her favorites.
"MAT E 273: Principles of Materials Science and Engineering opened up a world of understanding for me. I find the molecular explanations of material properties incredibly interesting. I use the foundational knowledge of materials science constantly when it comes to machining, doing mechanical analyses and theorizing machine failure," Camaioni said.
Camaioni plans to complete her B.S. in ME in Spring 2022. She hopes to work for the U.S. Green Building Council as a design sustainability manager. Eventually she said she would like to manage her own residential construction company specializing in sustainable and accessible housing.
"I'll always be grateful for the opportunities and experiences Iowa State has offered me. I can't wait to be a Cyclone Engineer," she said.
Additional Boyd Lab techs who contributed to this effort include Benjamin Baribault, Lovie Riar, Ben Shoemaker, Sydney Mier, Joseph Weikert, Jake Zolinski, Karter McNutt, Grace Perniel, Ryan Marshall, Joseph Andrews, William Burken and Lucas Kelchen