Two Cyclone Engineers have been elected to the National Academy of Construction 2021 class. Vilas S Mujumdar, professor of practice in civil, construction and environmental engineering, and alumnus Rao Surampalli ('85 PhD civil engr) are being recognized for their outstanding contributions to the field.
For election to the National Academy of Construction, individuals must make significant contributions to the effectiveness of engineering and the construction industry, be recognized as an industry leader, and have high personal integrity and regard for the construction industry.
"We are proud to have two with ties to the Department of Civil, Construction and Environmental Engineering recognized with the prestigious National Academy of Construction honor," said David Sanders, Greenwood Department Chair in Civil, Construction and Environmental Engineering. "Cyclone Engineers both on campus and across the nation and world are innovative leaders in build a safer and more sustainable future."
Mujumdar and Surampalli join alumni William Badger ('72 PhD civil engr) and Robert Tener ('62 MS, '64 PhD civil engr) and Charles Jahren, professor of civil, construction and environmental engineering at Iowa State University, as members of the National Academy of Construction.
"It was an exhilarating and humbling experience to be recognized with so many other accomplished people who have made such remarkable contributions to the construction industry. In particular for me, it was an affirmation of my team's accomplishments with regard to innovative online, hybrid and active learning," said Jahren, who was induced into the NAC in 2018. "The National Academy of Construction facilitates unique opportunities for members to serve the public with communications and publications.I am looking forward to collaborating with our new members, including Vilas and Rao, in developing and delivering such services."
Vilas S. Mujumdar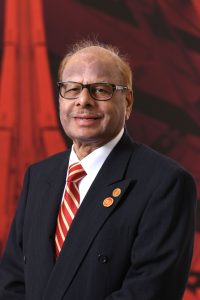 Mujumdar holds bachelor's and master's degrees in civil engineering, a master's in business administration, and a Ph.D. in seismic risk. He served as CEO and partner at many consulting engineering firms, as chief of operations for the Division of the State Architect, State of California, and as a program director at the National Science Foundation. He has been an independent consulting engineer since 2009.
Mujumdar has received many awards and recognitions nationally and internationally for his leadership and service, as well as for building projects in the private industry. He has authored two books, over 85 technical papers, given over 30 keynote lectures at international conferences, and authored numerous reports and projects. His most recent award is the highest honor from the World Federation of Engineering Organizations, receiving the Medal of Engineering Excellence in 2020.
He is an adjunct professor at the University of Notre Dame's Department of Civil and Environmental Engineering and Earth Sciences, on the advisory board at Northeastern University's College of Engineering, a distinguished fellow of the Global Resilience Institute at Northeastern University, and a professor of practice here at Iowa State. In addition to being heavily involved in academic affairs, Mujumdar is a Distinguished Member of the American Society of Civil Engineers, and he is a member of many professional engineering societies, including the American Concrete Institute, The Masonry Society, Prestressed Concrete Institute, the Structural Engineering Institute, Society for Risk Analysis and more.
At Iowa State, Mujumdar has made large contributions to engineering research and education, donating startup funds for the Hazard Mitigation and Community Resilience Program. He has provided key support professionally, intellectually and financially for Cyclone Engineers.
Rao Surampalli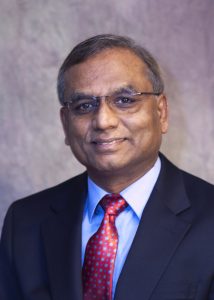 Surampalli graduated from Iowa State in 1985 with a Ph.D. in environmental engineering and has remained an active alumnus ever since. He also holds a master's degree in environmental engineering, is board certified in environmental engineering and water resources engineering and is a registered professional engineer in the civil and environmental engineering branches. Surampalli has won many awards for his sustainability innovation efforts, including the highest honor for a Cyclone Engineer: the Anson Marston Medal which he received in fall 2021.
His decades of experience have provided leadership on technologically sustainable development all over the world. Surampalli's work includes bioconversion turning waste into biodiesel and plastics, building and supporting technical capacities in over 25 countries, and has played a significant role in climate change mitigation and adaptation. Surampalli is also has over 800 refereed publications to his name, and acts as editor in chief of two accredited engineering publications. He is currently the CEO of the Global Institute for Energy, Environment, and Sustainability.