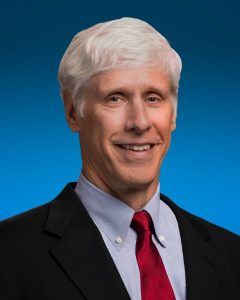 Jeff VerHeul ('80 comp engr), Austin, Texas, is being honored with the Professional Achievement Citation in Engineering award from the College of Engineering at a virtual ceremony on April 7 at 7 p.m. Register to watch or leave a note of congratulations here.
The PACE Award was established in 1968 to recognize superior technical or professional accomplishments in research, development, administration, education and other engineering activities. The citation recognizes alumni eminently known for their professional competence and creativity.
VerHeul is a computer engineering leader with more than three decades of product innovation and management success at the industry's most recognizable companies.
VerHeul is senior vice president of non-volatile engineering at Micron, a world leader in innovating memory and storage solutions. He's responsible for leading the non-volatile (NAND flash and 3D XPoint™) memory engineering team — 2,500 employees across six countries who drive execution of Micron's leading-edge flash memory semiconductors and system-level storage solutions.
Prior to joining Micron, VerHeul served as senior vice president of corporate engineering for SanDisk. His career also includes senior and corporate vice president positions with Standard Microsystems Corporation and AMD, where he led the development of multiple generations of microprocessors. He spent 25 years with IBM, working his way up to vice president positions within IBM Server Group and IBM Microelectronics.
VerHeul made InfoWorld's list of best chief technology officers in 2009 for his outstanding ability — demonstrated at AMD – to overcome engineering development process deficiencies and obstacles inhibiting the delivery of leadership products. At Micron, he is known for his ability to quickly win respect and drive program transformation, helping teams be the best in class.
In addition to his degree from Iowa State, VerHeul received a master's degree in management of technology from the Massachusetts Institute of Technology.
VerHeul is married to Mary Jo VerHeul. They have four children: Victoria, Alex ('06 finance), Alanna, and Paige.
VerHeul serves on the College of Engineering's Dean's Advisory Council and is a member of the ISU Foundation Order of the Knoll President's Circle. He is also an annual member of the ISU Alumni Association.