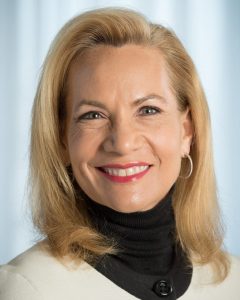 Lori Ryerkerk, ('83 chem engr), Dallas, Texas is being honored with the Anson Marston Medal by the College of Engineering at a virtual ceremony on April 7 at 7 p.m. Register to watch or leave a note of congratulations here.
The Anson Marston Medal was established in 1938 in honor of Anson Marston, the first dean of engineering. The Marston Medal recognizes alumni of the College of Engineering for outstanding achievement in advancing engineering science, technology or policy having national and international impact in academics, industry, public services, government or other venues.
Ryerkerk is the chairperson, chief executive officer, and president of Celanese Corporation, a Fortune 500 global chemical and specialty materials company based in Dallas, Texas.
Ryerkerk's expertise in the energy industry spans three-plus decades. She combines deep technical and commercial skills with a passion for the manufacturing business. Her unwavering focus on safety, environmental, and social performance is the foundation on which she has overseen some of the most technically complex operations in the industry.
Ryerkerk has been named by Fortune Magazine as one of America's Most Powerful Women in Business, and she serves on the board of directors of Eaton Corporation and previously served on the board of Axalta Coating Systems. Under Ryerkerk's leadership, Celanese received its fifth consecutive Energy Star Partner of the Year for Sustained Excellence Award and achieved a perfect score on the Human Rights Campaign's Corporate Equality Index for the second consecutive year.
Prior to joining Celanese, Ryerkerk was the executive vice president of global manufacturing at Shell Downstream Inc., leading a team of 30,000 employees and contractors at refineries and chemical sites worldwide. She has also held senior leadership positions at Hess Corporation and spent 24 years with Exxon Mobil, improving operational performance in assignments across the U.S. to Europe and Asia.
Ryerkerk is married to the Honorable Carl R. Griffith. She is the proud mother of two children, Dr. Katherine Woodburn, a fellow in urogynecology in Washington, D.C., and Grant Woodburn, a senior in chemical engineering at the Colorado School of Mines.