Iowa State University Department of Electrical and Computer Engineering (ECpE) Assistant Teaching Professor Mat Wymore is using the popular video live streaming platform Twitch to stream coding demonstrations to students enrolled in his courses.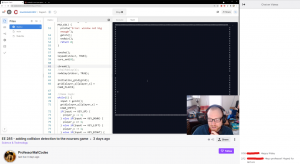 Wymore live streams his screen to his students and explains his coding demonstration on video while students have the ability to ask questions in the chat in real-time to the right of the screen. Twitch offers a more hands-on experience, where students can watch and ask questions about the demonstration in real-time and Wymore can personally engage with his students.
This semester, Wymore is using Twitch to stream coding demonstrations for EE285, a class that discusses methods for systematically reducing problems into sequential steps compatible with computer-based tools, structuring computer programs for efficiency and maintainability.
Wymore said that streams are scheduled weekly, and he also used Twitch to stream for courses last semester. In the fall semester, Wymore streamed course content for his EE285 and CPRE388 classes, as well. He said that he also gives traditional lectures as well for students who may prefer to not use the platform.
"Feedback has been mostly positive," Wymore said. "Some students enjoy it because they already use Twitch and watch streams and are familiar with the platform and find it fun."
Twitch is good for formatting coding demonstrations because it does not require in-person instruction, and formatting on Twitch is simple. It also gives students the ability to drop in and watch in real-time, according to Wymore.
Wymore received his doctorate in wind energy science, engineering, and policy with a co-major in computer engineering from Iowa State University in 2019.
Wymore is from Iowa and left to work in Wisconsin for a few years after receiving his bachelor's from Iowa State. While pursuing his doctorate, he was given the opportunity to teach a course, which is when he discovered that he enjoyed teaching, Wymore said.
"My motivation is partially to engage students on their own platforms versus on some other platform that we think is good for them," Wymore said.