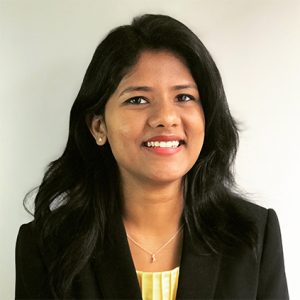 Three minutes well spent has netted Department of Aerospace Engineering graduate student Ramya Srinivasan the People's Choice Award in Iowa State University's 3-Minute Thesis final competition.

Three Minute Thesis (3MT) celebrates research conducted by master's or Ph.D. students around the world. Developed by The University of Queensland, the competition cultivates students' academic, presentation and research communication skills. Presenting in a 3MT competition increases students' capacity to explain their research in three minutes in a language appropriate to a non-specialist audience. Competitors are allowed one static PowerPoint slide, but no other resources or props.
Iowa State students campus-wide participate in preliminary competitions, with seven selected to vie for top ISU honors this year, including first place, runner-up and People's Choice.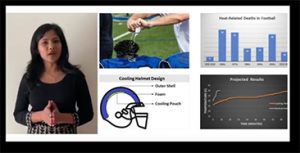 Ramya presented "Cooling of Football Helmets," which addresses the problem of dangerous heat buildup in the head of football players and heat-related illness. Her thesis employs cooling components that include polymer phase change material and aluminum honeycomb inside a copper pouch that attaches to the inside of the helmet.
All seven finalists' presentations can be viewed in a YouTube video. Ramya's presentation can be found at the 22:54 mark.
Ramya is a master's student studying under major professor Dr. Vinay Dayal, an aerospace engineering associate professor and engineering associate in the Center for Nondestructive Evaluation.
More information about Ramya and her 3-Minute Thesis research is available on the ISU Graduate College website.