Three graduate students and recent graduates in the Iowa State University Department of Materials Science and Engineering (MSE) have received departmental MSE Research Excellence Awards: Trishelle Copeland-Johnson, Emily Olson and Pratyasha Mohapatra.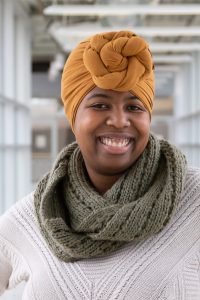 Trishelle Copeland-Johnson
Copeland-Johnson, who recently received her Ph.D. from Iowa State in the fall 2020 semester, worked with MSE Professor Nicola Bowler.
"My research area was established in response to the Fukushima Daiichi nuclear accident in 2011. The explosions during the accident were attributed to the failure of the protective oxide coating that grew on the material that encapsulates the nuclear fuel in the reactor, which we call claddings," Copeland-Johnson said. "The United States Department of Energy seeks to enhance the safety margins of domestic nuclear power plants to mitigate a similar catastrophe in the future. My research aids in our understanding of how the metallic alloys used to construct claddings form this protective oxide layer, especially under extremely stressful temperatures like those observed during the Fukushima accident."
Copeland-Johnson said the research is very important to ensuring that the United States can maintain its nuclear energy infrastructure, which contributes to diversifying the country's energy portfolio and its dependence on fossil fuels.
Bowler, who served as Copeland-Johnson's major professor since May 2017, said she is deserving of this award because of her "exemplary handling of the complexities of multi-investigator research efforts that have characterized her graduate student career," along with her superior academic performance.
"Trishelle's recently-published article, 'Characterization of Kanthal APMT and T91 oxidation at beyond design-basis accident temperatures,' makes an important contribution to the understanding of corrosion science in the sensitive application area of nuclear fuel rod cladding materials," Bowler said. "Trishelle was the driving force behind this paper, coordinating contributions and facilitating collaboration between co-authors from industry, Brookhaven National Laboratory, Ames Laboratory and two academic departments. In addition to this management/organizational contribution, Trishelle performed optical and scanning electron microscopy, whose results appear in the published article. Trishelle anticipates publishing four more research articles on the basis of her thesis research and on the topic of a competitive $20k American Society of Nondestructive Testing Fellowship Award that she received for her original proposal, A Hybrid Non-Destructive Evaluation Probe for Characterization of Oxidized Nuclear Fuel Cladding Alloys."
Copeland-Johnson thanked Bowler and others.
"I want to thank my mother for always supporting me through my Ph.D. journey. I also want to thank my major professor, Dr. Nicola Bowler, for her wisdom and guidance to achieving this award," she said. "I also want to thank my peers in the Electromagnetic Materials Design & Characterization Group for lending their emotional support and technical expertise throughout this project."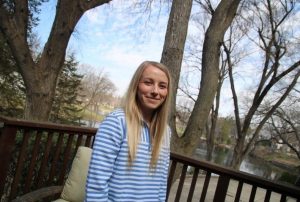 Emily Olson
Olson, MSE doctoral candidate, is a member of MSE Assistant Professor Shan Jiang's Soft Matter and Nano Engineering Laboratory. She is co-advised by Jiang as well as two professors from the ISU Polymer and Food Protection Consortium. Emily's research is highly collaborative between materials science and food processing, addressing importance challenges in understanding fundamental science, preserving food and designing more sustainable materials.
"Broadly, my research focuses on taking sustainable approaches to modern day problems," she said. "I formulate unique nanoparticle assemblies based on specific interactions with biobased polymers. We have found that we can design different assemblies of nanoparticles (from dispersions to networks) based on the polymer conformation. The resulted biobased nanocomposites demonstrate superhydrophoicity, self cleaning and unique interactions with light. Currently, we are working to gain a deeper understanding of the kinetics of this system, in both wet experiments and computational simulations."
This is important for future work with nanoparticles.
"Conventionally, to elucidate the properties of nanoparticles, it is desired to disperse them in their polymer matrices. In this work, we show that unique assembly systems, such as porous network structures, have advantageous properties," she said. "Interestingly, polymer structure can be used to mediate these unique nanoassembly patterns. Together, we demonstrate the importance of nanoparticle assembly in material design, and highlight sustainable approaches to do so."
Jiang said Olson is very deserving of this award.
"I am very impressed by Emily's hardworking attitude, excellent communication skills and her perseverance in research studies," Jiang said. "Emily has published several papers in high impact journals and filed a patent application based on her results."
Olson said she is honored to have been selected as a recipient of this award.
"I could not have done it without the support of my advisors, committee and lab team," she said. "I would like to thank my advisors, Dr. Shan Jiang and Dr. Greg Curtzwiler; my committee; my lab teams in MSE and FSHN (Polymer and Food Protection Consortium); and our collaborators inside and outside of Iowa State."
Jiang said, "Emily has high research potential, great intellectual capacity and determination of being successful. It has been a real pleasure working with her."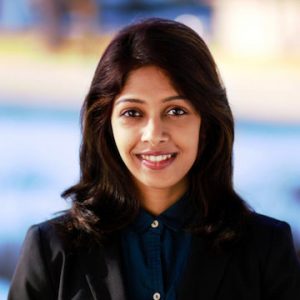 Pratyasha Mohapatra
Mohapatra, MSE doctoral candidate, works with MSE Associate Professor Jun Cui. Her research focuses on developing novel antiferroelectric ceramic materials for high energy density capacitor applications by powder processing techniques. Her work is directed toward developing new strategies to investigate the cause and mitigate hysteresis loss in ferroelectric/antiferroelectric dielectric ceramics to improve energy efficiency.
"My research involves developing novel ceramic antiferroelectric dielectrics for high energy density capacitors. Capacitors are a critical component for most electronics today. But due to their low energy efficiency (70%), capacitors tend to be bulky and generate a lot of energy losses," Mohapatra said. "My research focuses on designing and fabricating new capacitors, such that they have ultrahigh efficiency (above 95%) and near zero energy losses, and thus the capacitors can have a high service life without overheating or prematurely failing."
Her work is important for the future of powering the planet.
"These novel capacitors will have almost perfect efficiency, minimal energy loss and extended lifetime," she said. "Thus, they will be highly suitable for next-generation energy storage, electric cars and renewable energy transmission."
Cui echoed Mohapatra's thoughts: "Her work on antiferroelectric capacitors may lead to next-generation capacitors that are twice as powerful than they are today and can stand much higher temperatures due to their ceramic nature, versus the current polymer-based multi-layer capacitor," he said. "The direct application of this high temperature, high power density capacity is the EV power electronics. With our new capacitor, wide-band-gap semiconductors can run at their full power without worrying about the temperature."
Reflecting on her growth and success as a student, Cui said Mohapatra is deserving of the award, and that in his mind, she has already earned her Ph.D.
"Pratyasha is a smart student. She spent about 1.5 years building the basics. In late 2019, she started to produce results. Both the quantity and quality of her work improved as time passed by. In the past two months, she has been consistently exceeding my expectations. Now, she knows more details about this material than I do," Cui said.
Mohapatra thanks the MSE department for their support.
"I feel really honored, and the award is a great encouragement for me to work further and better. I would like to thank my major professor, Dr. Jun Cui, and my co-advisor, Dr. Xiaoli Tan, for their guidance and giving me the freedom to explore ideas at all phases of my Ph.D. work," she said.