Assistant Professor Zhaoyu Wang received the Harpole-Pentair title in 2017. This year, Wang had the award renewed for an additional year.
The Harpole-Pentair Professorship at Iowa State University is awarded to outstanding junior faculty members with less than six years of experience and provides supplemental support and enrichment opportunities to its recipients. The award was created by Murray J. and Ruth M. Harpole in 1986. This year, two additional Department of Electrical and Computer Engineering (ECpE) associate professors were recognized with the award — Mai Zheng and Goce Trajcevski.
Mai Zheng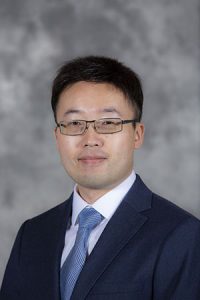 Zheng is now in his third year at ISU, beginning his work in ECpE in 2018. Zheng said he was pleased to learn he had received this title.
"I'm very excited about this award, and I really appreciate the recognition," Zheng said.
Zheng's research revolves around computer infrastructures that store and manage large amounts of digital data, including cloud systems and high-performance computing systems. Zheng is also involved in the Data Storage Lab, where he works with students to improve the performance and security of the latest storage systems. Zheng said he sees a lot of potential in the work being done in the lab.
"I'm leading the Data Storage Lab in ECpE, and we are starting to make some real impact," Zheng said. "I hope to develop the lab into a nationally and internationally recognized research group."
Zheng said the support he has received at ISU has been instrumental in his continued success.
"My work is impossible without the strong support and leadership in ECpE, the College of Engineering and the university. A lot of colleagues have helped me in many ways."
"Also, I would like to thank the hardworking students in Data Storage Lab, who sometimes listen to me," Zheng said.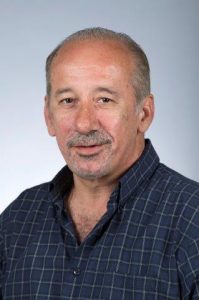 Goce Trajcevski
Trajcevski came to ISU and joined ECpE in the fall of 2017. His research is focused mainly on mobile data management, including aggregating data, representing and storing that data and developing efficient query processing algorithms and data structures, as well as developing learning algorithms for clustering, recommendations, predictions and network alignment by analyzing existing data.
An example is a prediction of traffic flow in different micro and meso scales to aid tourists by recommending a route for visiting points of interest based on the user's preferences. Users could also set constraints within the algorithm, specifying the limit on the amount of time they have to sightsee, and what level of diversity they want in the places they explore. Trajcevski said the title will allow for new opportunities for both him and his students.
"It is an honor to be recognized [with the Harpole-Pentair Professorship]," Trajcevski said. "Plus, in addition to my current research funds, I also now have extra funds to, for example, pay for more students to be able to participate in conferences or involve more undergraduates in research projects."
Trajcevski said that working at ISU and in ECpE has enriched his knowledge and research.
"ECpE, as a department, is extremely vibrant," Tracevski said. "I can interact with colleagues and talk with them about a lot of different topics, which has broadened my perspectives and opens opportunities for collaboration. In my experience, Iowa State provides not only high-quality faculty but also high quality and hardworking students. In addition, the technical support folks are great."
Murray Harpole was an inaugural member of the ECpE Hall of Fame. Throughout the years, the Harpoles supported the Engineering Teaching and Research Complex, student scholarships and faculty development opportunities at Iowa State. In 2005, Murray and Ruth received the ISU Foundation's Order of the Knoll Campanile Award for their continued generosity. Murray Harpole also served on the ECpE department's External Advisory Board. He passed away in May 2011.