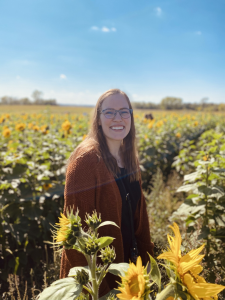 Major: Biological systems engineering  
Hometown: Cedar Rapids, Iowa 
Clubs and activities: The Green Umbrella, DUBH ISU Hip Hop Club, Biosystems Engineering Club, Alpha Sigma Kappa, NextGen America, undergraduate research intern for CenUSA Bioenergy, undergraduate research assistant for the Polymer and Food Protection Consortium 
Who was your most influential mentor while at Iowa State? 
Merry Rankin is the director of the Office of Sustainability at Iowa State, and the club advisor for The Green Umbrella. Merry has a contagious positive outlook on life and dedicates her time to making our Iowa State and Ames community a better place for everyone's future. I am grateful to have such an inspirational role model to look up to.  
What would you consider your greatest accomplishments at Iowa State? 
I am fortunate that because of the timing of my graduation, I have been able to participate in two presidential election cycles while in college, not to mention a historic city council election. This means that I have been able to educate and walk first-time voters through the process several times.
Though COVID-19 has changed the way that we canvass and many people's method of voting, it did not change the importance of voting as college students. We have the most to gain from participating in elections, because we will be here to see the impacts of our votes for the longest time.
Helping to get out the youth vote is so rewarding, and I am proud of all the people who have allowed their voices to be heard, whether through volunteering or by casting their ballot.  
What's your favorite memory of your time at Iowa State? 
KURE Fest 2018, the way the atmosphere of the MU Great Hall transforms when one of your favorite bands is playing is unreal.  
What's your favorite place on campus? 
The lounge across from the ABE advising office in Sukup Hall. 
What's your advice for first-year Iowa State engineering students? 
Quitting isn't the same as failing. Whether you are exploring majors or clubs, it takes time to find your passion and your people, so don't rush it! It will all come together, just trust your gut (and talk to your advisor).  
What do you like to do in your free time? 
I am always up for a board game or a round of tennis. I love kayaking in the summer and walking around campus any and every season, it never gets old.