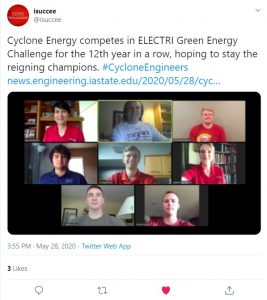 For the past seven years, Iowa State's Cyclone Energy has placed first at the ELECTRI International Green Energy Challenge. For the seventh consecutive year, Cyclone Energy managed to place first, despite COVID-19 changing the course of the competition. 
Josh Zeien, senior in construction engineering, admits that COVID-19 "threw a wrench in the system," when it came to the competition process compared to previous years. 
Within the Green Energy Challenge, teams from universities across the country work with nonprofit organizations to reduce their energy consumption and increase the use of renewable energies. 
The Cyclone Energy team worked with Childserve Childcare Center, located in North Ames, to retrofit their lighting systems.
"It's a lot of restoration engineering, taking something that already exists and finding ways to improve it and make it a more positive place by lowering their energy consumption and raising their rates of renewables. A lot of it is educationally-based," Zeien said. 
Typically, the Cyclone Energy team seeks out nonprofit organizations, however Childserve Childcare Center sought out the team themselves.
"We know who we can reach out to, we have all this set up so we can reach out to companies a little bit faster than other teams and we keep in contact with them throughout the year when we're not doing the challenge so it keeps the relationship there," Zeien said.  "And I think those relationships being built throughout the past competitions, we do, really helps us excel as we keep doing these competitions."
Instead of getting the opportunity to present a formal presentation in front of a panel of judges in Chicago this past spring, students were sent home to mitigate the spread of COVID-19. 
"It wasn't terribly difficult for us to converse over Webex or Zoom and we did that generally weekly," Zeien said. "And we all had parts we were working on in the project. Which allowed us to work on our parts individually and come back together as a group with what we've done. The biggest difference was our presentation this fall, where usually we present in front of a live audience of hundreds of people, but this year we had to film it and submit it, which was a whole different experience. We missed that live interaction with the judges and everyone else attending."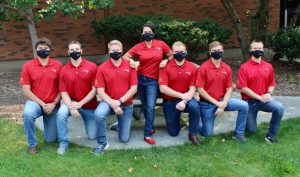 With the Cyclone Energy team placing first the past seven years they've competed in the Green Energy Challenge, there's slight pressure to perform as well as teams prior. 
"I think that winning it six years in a row, we have to do just as good as them, if not better, to really up the bar for competition," Zeien said.  "I think it puts a little bit of pressure on the team, but that gets buried under it all when you start doing your work because you don't tend to think about it as much, you're just doing your work, know what you're doing, you've done it before and it's something we all seem to enjoy and are passionate about so it helps us not to focus on the numbers as much."
This is the final year of the Green Energy Challenge as Cyclone Energy knows it, as ELECTRI international is reformatting the competition. As of right now, there are no updates on what the competition will look like or how it will operate. And as the only non-graduating member of the Cyclone Energy team, Zeien is anticipating how it will look in years to come. 
"I'm excited to see what they change and what we get to do next year," Zeien said.