ISU Chem-E-Car team qualifies for national competition for fifth straight year
It was a double victory for Iowa State's American Institute of Chemical Engineers (AIChE) student chapter in the AIChE MidAmerican Regional Student Conference. The Department of Chemical and Biological Engineering (CBE) AIChE student members rose to the opportunity to host the first-ever regional event virtually – and then saw one of its teams take first place in the all-important Chem-E-Car competition.
When the COVID-19 pandemic outbreak forced a postponement of the conference from its original April date, it was turned into a virtual event. The school that was to host was not able to prepare for a remotely-conducted event in time. With little time to prepare, Iowa State's student chapter volunteered to take over hosting and agreed to be the test bed for all other AIChE regions nationally in conducting a conference virtually – and CBE students shouldered much of the responsibility on their own.
Due to the COVID-19 pandemic, the department's AIChE faculty advisor, teaching professor Stephanie Loveland, spent much of the summer of 2020 at home and was unable to work closely with the students to the degree she would have normally.
"My students really stepped up this summer and took over hosting duties for the conference and did an absolutely fantastic job of putting everything together. I am so proud of them!" said Loveland. "They had lots of people from all over the world watching them online. There were a few hiccups here and there, but overall it was a very well-done virtual event and will now be used as a best practices example for how to conduct these virtually."
Iowa State was joined by teams from numerous other colleges and universities for the conference, which  served up not only the Chem-E-Car competition but also a research poster competition showcasing the Chem-E-Car entries and "ChemE Jeopardy," where students compete to showcase their knowledge of chemical engineering in the format of the popular game show.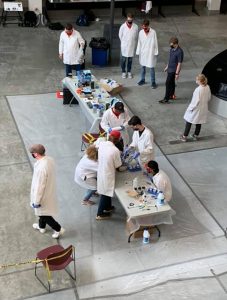 The Chem-E-Car performance competition features student-designed miniature vehicles that are both powered and stopped by chemical reactions. The cars compete one at a time on a designated course, and the distance from the finish line to when the car stops is measured and recorded. The entry that stops closest to the line is the winner. In keeping with the virtual theme of this conference, the Chem-E-Car competition was also done live online. Each participating school showed their distance runs in real time for all to see via a virtual meeting hookup.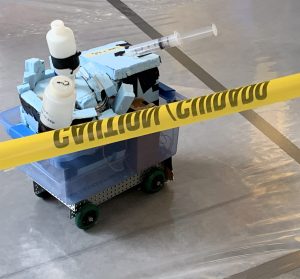 Two Iowa State teams were entered in the competition: Sweeney Dratini and Ninetails with Attitude. Sweeney Dratini took first place in the Chem-E-Car poster competition, while Ninetails with Attitude took third. In the Chem-E-Car performance competition, it was Ninetails with Attitude taking the title. Sweeney Dratini's entry struggled with what was later diagnosed as an electrical issue. For Ninetails with Attitude, it was an extremley close battle. "The victory by Ninetails with Attitude saw the car stop a very close 0.81 meters from the finish line, edging out the second-place entry from Missouri S&T by only two centimeters," Loveland reported.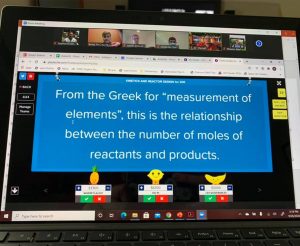 With the first place finish by Ninetails with Attitude, Iowa State CBE will now send a Chem-E-Car team to the national competition in the AIChE Annual Student Conference for the fifth consecutive year. That event will also be held online, November 13-16.
"It was a time crunch putting everything together, but definitely worth it," said Iowa State's conference chair, CBE senior Anna Buccholz. "The entire event was held on Zoom and used an online Jeopardy software for that part. This allowed people from all over the world to watch the competition live. I am really glad we were able to make this event work. The teams, especially the Chem-E-Car teams, had put in many hours of work and were disappointed when they heard the conference originally was cancelled, so we knew it was important to do our best to make sure this happened. We can now begin planning the Spring 2022 AIChE Mid-America Regional Conference that Iowa State will be hosting, whether it is virtual or in-person."
Chapter president Bailey McCrea added, "Most things we have done since mid-March have never been done before. We are the very first student chapter to host this type of online event for AIChE. The lessons we learned will carry on to 10 more regions encompassing nearly 200 universities globally. I could not be happier with the outcome we had to make an impact of this scale."
A message from AIChE officials summed up the effort: "We could not have asked for a smoother virtual conference. Your feedback has been extremely helpful and will definitely aid us in the next competitions. Great job ISU team!"
Thanks is extended to Hannah Piersol (an Iowa State event management student), and all students in the ISU AIChE cabinet. In addition, faculty members Dr. Tom Mansell, Dr. Laura Jarboe, and graduate student Dhananjay Dileep are thanked for their help with the Chem-E-Jeopardy competition and Bill Diesslin of Iowa State Environmental Health and Safety for his assistance with Chem-E-Car safety.
Students and their teams in the event included:
Sweeney Dratini Chem-E-Car Team
Captain – Maggie Toepfer
Members – Spencer Wolfe, Alan Arizmendi, Brianna Burton, Jack Raffaelle, Dominic Abbott
Ninetails with Attitude Chem-E-Car Team
Captain – Matt Kieffer
Members – Theodore Davis, Mason Dyess, Tyler Nelson, Samantha Eltze, Michael Coleman
Cardinal Team Chem-E Jeopardy Team
Madison Rubin, Hailey Bates, Joel Clancy, Mason Dyess