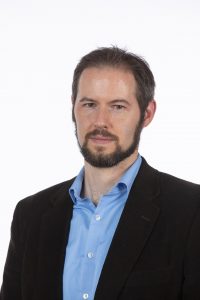 A prestigious funding mechanism from the National Institutes of Health (NIH) will allow the Department of Chemical and Biological Engineering's (CBE) Nigel Reuel to combine his group's expertise in sensors and protein prototyping to create an automated tool for the discovery and design of new protein therapeutics for a wide range of diseases. This unique funding gives his group the flexibility to expand and adapt research as the project advances.
"Unsupervised Optimization of Protein Therapeutics Using Closed-Loop In Vitro Synthesis, Nanosensing, and Deep-Learning" has received funding from a Maximizing Investigators Research Award (MIRA) Early Stage Investigators (ESI) federal grant. It will provide the Reuel Group with $1.78 million over the next five years. "I am very excited about receiving this transformative award that will allow our creative work to progress in a high-paced and less restricted method," said Reuel.
Unlike a traditional research grant, which ties a scientist to rigorous milestones on one topic, a MIRA ESI grant allows researchers to pursue different avenues as the work evolves. The MIRA ESI program is overseen by the National Institute of Health (NIH) National Institute of General Medical Sciences (NIGMS). It provides support for a program of research in an early stage investigator's laboratory.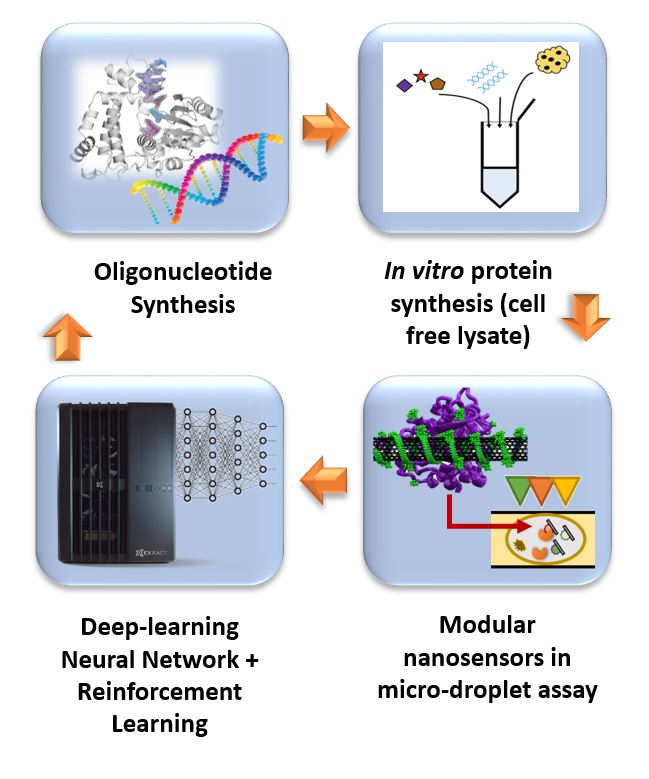 The purpose is to increase funding stability while offering investigators the flexibility to follow important new research directions as opportunities arise and to reduce time spent writing, reviewing and managing multiple research grants to provide more time for research and mentoring junior scientists.
Developing new materials, methods, and measurement devices for biomanufacturing, biotherapeutics, and biosensors to help treat disease conditions is one of the primary research goals you'll find in the lab of Reuel, who is an assistant professor and Jack A. and Carol R. Johnson Faculty Fellow.
"Protein based therapies, such as antibodies, enzymes, and signaling molecules, have proven to have superior efficacy and selectivity in many disease treatments," said Reuel. "In recent years, the design, build, and test cycle to find therapies for new disease targets has improved dramatically, but, like any good engineer, we want to make it faster and more efficient."
Reuel points out that current evolution techniques have a few limitations that hamper the efficiency of developing these therapies. It is the goal of this work to design a closed-loop system that allows for "unsupervised" design and discovery of protein therapeutics that overcomes these limitations.
His group will harness reinforcement learning tools (AI) to predict blueprint templates of proteins, rapidly manufacture these proteins with scalable cell free technology, and test efficacy of the proteins with custom optical nanosensors. The information is then fed back to the AI algorithms to self-learn design rules and predict next sequences to text.  This loop is continued until it converges on a set of superior products. The ultimate goal is more efficacious therapies that can be designed faster, translating to less cost to the consumer.