Cheng Huang, assistant professor with the Iowa State University Department of Electrical and Computer Engineering (ECpE), has received his first major grant through the National Science Foundation (NSF) since joining Iowa State in 2018.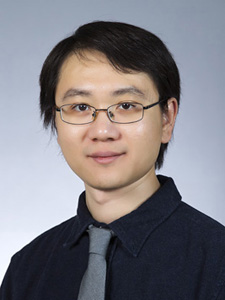 Throughout his career, Huang has focused on the research and development of various types of power management integrated circuits (PMICs). He is the principal investigator (PI) of the project "Next-Generation Fully Integrated Power Management Circuits: Enabling Faster and More Efficient Computing and Communication in Smaller and Lower-Cost Mobile Electronics." The project was awarded a funding of $499,999 from NSF and is scheduled to start in October 2020 and end in September 2023.
There are many different kinds of PMICs, including voltage regulators, wireless power transfer systems, energy harvesting systems and LED drivers. Among these, voltage regulators are what Huang referred to as a "classic" type of PMIC, and the most important and widely used in electronics.
"Nearly all circuits require some kind of voltage regulation," Huang said. "They are widely used from your phones, to servers in data centers, to electric vehicles." This project will mainly focus on new voltage regulator designs for mobile electronics. "Many voltage regulators are required in your phone to bridge the gaps between the single variable voltage from the source, say a Li-ion battery; and the multiple, well-regulated voltages needed to supply different blocks, such as processors, memories, RF circuits, audio DACs and various microcontrollers," Huang said.
His goal is to design fully-integrated voltage regulators where all components can be integrated onto a single chip or in an IC package. With full-integration, the cost and form-factor of the voltage regulators can be significantly reduced. "PMICs are now a primary bottleneck in the development of mobile devices in the aspect of form-factor and cost," Huang said.
"The circuit board area occupied by PMICs in smartphones are actually increasing in percentage," Huang added. "Unlike digital circuits like processors that enjoy the technology scaling for faster performance in smaller form-factors, PMICs are struggling to shrink further. This is mainly due the power inductors and capacitors." With on-chip or in-package integration, these bulky and expensive passives can be eliminated from the circuit board, reducing the cost and releasing more room to fit a larger battery for longer runtime.
In addition to full integration, the research is also intended for PMICs to improve their speed to support high performance processing and communication circuits. "Most advanced processors nowadays have power and thermal limits, limiting their performance," Huang said.
A widely used strategy to address this is to adjust the clock frequency and the supply voltage based on the computational need, which is known as the dynamic voltage and frequency scaling (DVFS) technique. However, the PMICs are too slow to keep up with advanced processors for optimal operation. "Another aspect of this research is to improve the speed of PMICs to keep up with more aggressive DVFS strategies for processors to save more energy for longer battery runtime, as well as relax the power and thermal constraints for higher performance," Huang said.
Huang holds a Ph.D. in Electronic and Computer Engineering from the Hong Kong University of Science and Technology. Before joining ISU, he was an integrated circuit design engineer for Broadcom in Silicon Valley.
"I enjoy working in the university with the freedom to choose interesting research directions, and working with my students to accomplish research goals. I really hope after, say, 10 years or 20 years, my students are all over the world working in the industry and developing next-generation integrated circuits," Huang said.
"With the support from this awarded NSF grant, new cutting-edge finds will be expected very soon," Huang said.
"I would like to thank the department and many faculty members in ECpE. They are extremely supportive and are always trying their best to share their experience with me to help my success," Huang said. "This research proposal might not have been successful without their support."